Constructed in 1970, the Seoul Station overpass connected the eastern and western halves of the South Korean capital for over three decades. Closed in 2015, due to safety concerns, the iconic suspended highway was reopened this month, as a pedestrian sky garden.
The old overpass was created as a solution to the growing traffic congestion in Seoul, and eventually became a symbol of the Asian country's economic growth in the 1970s. However, concerns regarding its safety were first raised by experts during the 1990s, prompting the local government to conduct periodic inspections. In 2012, engineers reported that the 1,024-meter-long structure could only support heavy traffic for three more years, and the city announced that it was going to be demolished by 2015. However, in 2014, Seoul Mayor Park Won-soon, came up with a different plan.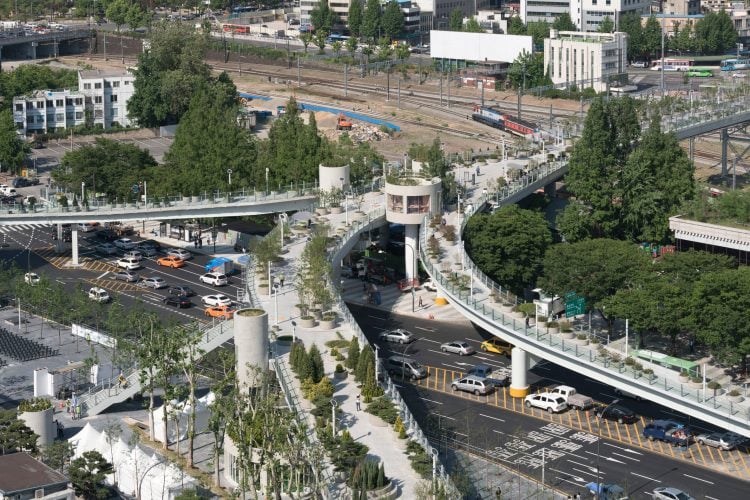 Photo: MVRDV
Inspired by New York's High Line park, an old elevated freight rail line transformed into a public park, the mayor decided to abort the demolition of the iconic overpass and to transform it into a pedestrian sky garden accommodating the biggest variety of Korean plant species. Named Seoullo 7017, the new project is a recognition of the need to preserve historical landmarks, and an attempt to make the city greener and more pedestrian-friendly.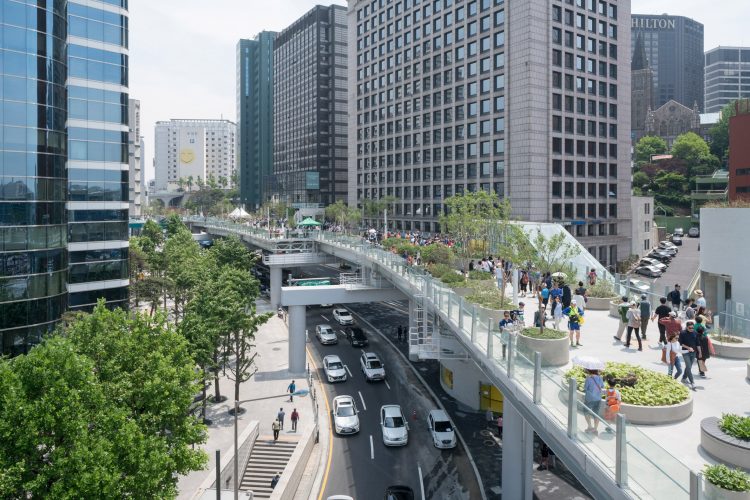 Photo: MVRDV
The name Seoullo 7017 is a nod to the two most important years in the structure's existence – 1970, the year that the overpass was constructed, and 2017, the year of its transformation. It also features 17 walkways that pedestrian can use to access it from various areas of the city. Seoullo 7017 features 645 giant concrete pots, some of which are taller than an average-height person, containing 228 species of trees and flowers. It is also designed to be an "urban nursery" for trees, many of which will eventually be transplanted to other areas of the city.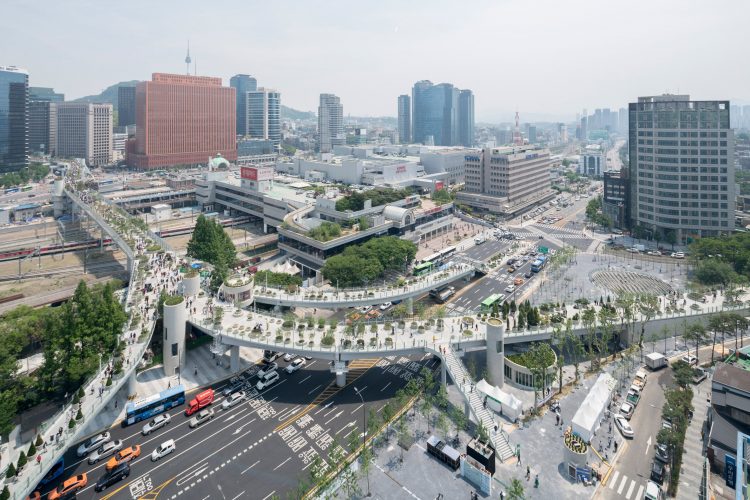 Photo: MVRDV
"Located in the heart of Seoul, a true plant village has been realised on a former inner-city highway in an ever-changing urban area," said MVRDV, the Dutch design studio behind Seoullo 7017. "The pedestrianised viaduct next to Seoul's main station is the next step towards making the city, and especially the central station district, greener, friendlier and more attractive, whilst connecting all patches of green in the wider area."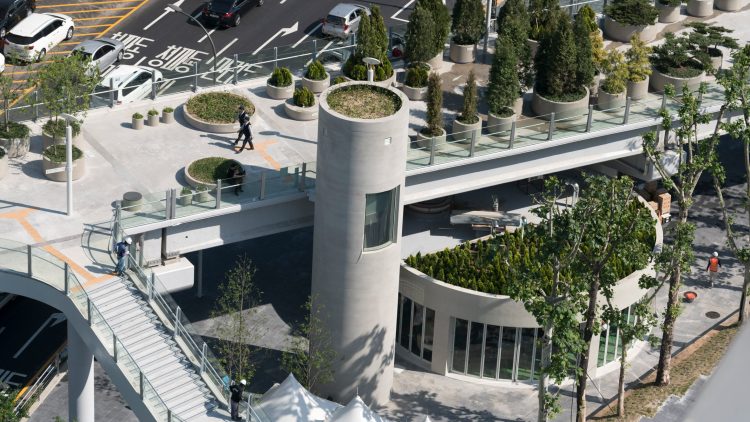 Photo: MVRDV
The idea of converting an old overpass into a green oasis is definitely interesting, but following its grand opening, on May 20th, some have declared themselves unimpressed with the result. A lot of people were expecting it to be, well, more like a regular park. Instead, it's still primarily concrete, with the small plants and trees being housed in cylindrical pots. Also, since the trees are very young, it is very exposed to sunlight, making it very difficult to visit on hot summer days. Yes, the trees will grow in time, but many people would have preferred to see more of them, and a lot less concrete.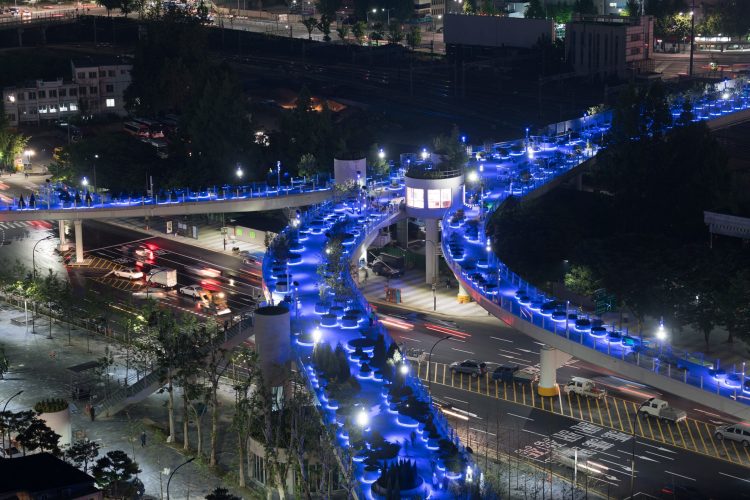 Photo: MVRDV
"Most of it is paved with concrete slabs, while the trees and plants are all contained in tubs or cement rings. The trees, of course, will grow over time and provide more shade, but the design leaves a feeling of frustration that this is 'Nature Lite,' where concrete remains dominant over soil and vegetation," writes Ben Jackson, of Korea Exposé. "Why not fill the old overpass structure with earth, plant native seeds and lay a simple path between the trees and shrubs? Would such a radical approach be too much to ask for? It would certainly be cheaper. Less concrete paving and more rampant undergrowth would not allow such large volumes of pedestrian traffic to pass through the park, but no pedestrians crossed it when it was used by vehicles anyway."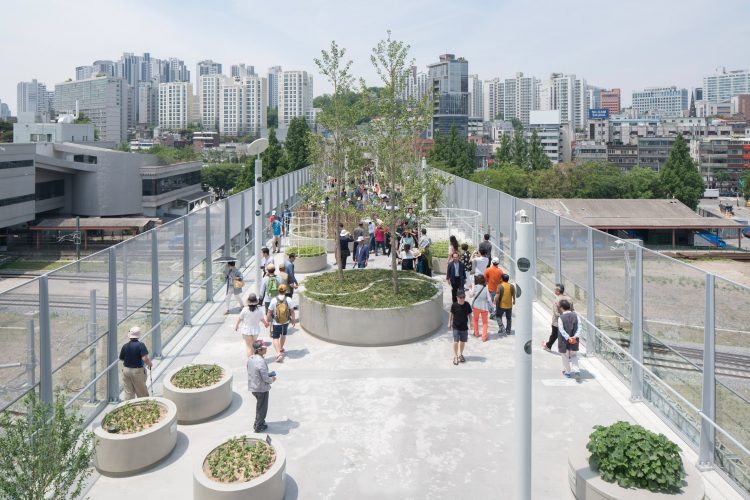 Photo: MVRDV
On its official Facebook page,  Seoullo 7017 sky garden has an average user review score of 3.7/5 stars, with some reviewers complaining about the same problems detailed above.
"Poor design, concrete pots, uninspiring nature, misplaced access, crowded, noisy mist dispensers, questionable artwork. Huge disappointment. Could have been so much more," one reviewer wrote.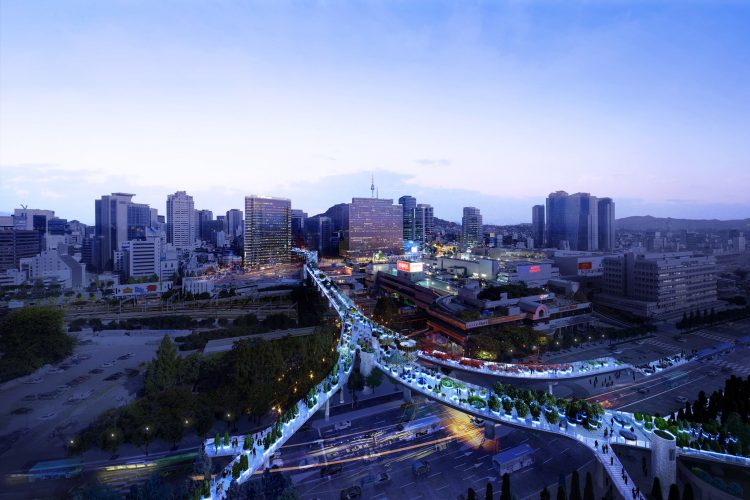 Photo: Seoullo7017/Facebook
"Not enough shade. It's not something you have to add in your itinerary," another added.
There are some positive reviews, too: "Amazing! Korea never failed to amaze me every time I visit…there is always something new for tourists to discover. Seoullo 7017 is another example of Korean creativity and ingenuity. It is an urban regeneration model that other countries can follow."
via Dezeen