Once a Russian boxing champion, Renat Agzamov is now known as a celebrity cake maker specializing in elaborate, edible masterpieces that sell for tens or even hundreds of thousands of dollars.
A self-described workaholic, Renat Agzamov baked his first cake when he was only seven-years old and claims to have since created over 2,700 cakes, constantly trying to improve his skills and surpass clients' expectations. Despite dedicating much of his youth to sports and becoming a boxing champion in his native Russia, the talented food artist says that cooking in general and cake making in particular have always been his greatest passions. Today, he is one of the world's most sought-after cake artisans, creating incredibly complex wedding cakes for high-profile clients all around the world.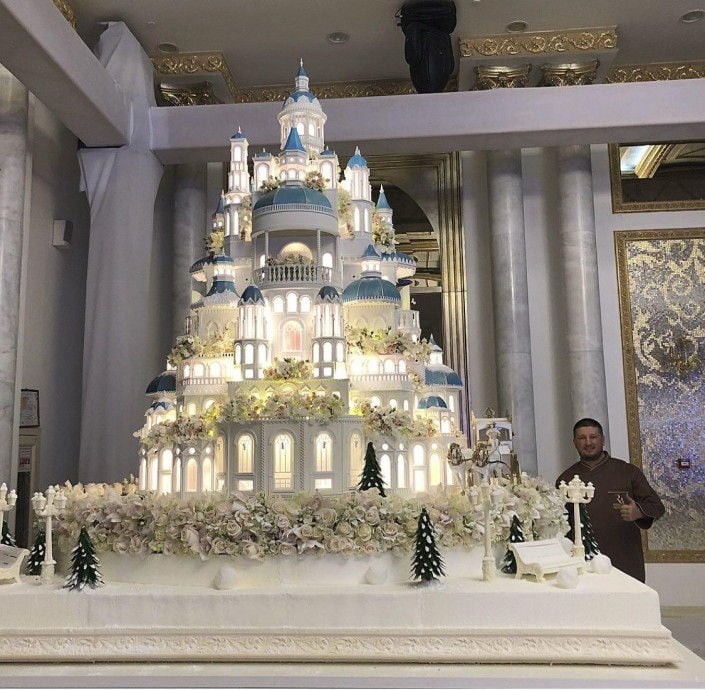 Photo: Renat Agzamov
Agzamov has over 30 years of cake making experience, and has won several confectionery competitions over the years, but it was social media, especially Instagram, that helped him get the international exposure he needed. In an interview with Bumtorg.ru, Renat said that he would have probably gotten international recognition eventually based on his skills alone, but Instagram probably sped things up by 20 years. He currently has over 2 million fans on the popular social network where he constantly posts photos of his elaborate cakes.
View this post on Instagram
Asked what the secret to success in the world of confectionery world was, Agzamov said that in his case it was experience and the thirst for knowledge. His first job was an unpaid one at a confectionery cafe in Krasnogorsk. He was young and took the job just to improve his skills. Whenever he would pass by a confectionery place and saw something new he didn't know how to make, he tried to get a job there just to learn secrets of the trade.
View this post on Instagram
"No one will just tell you such things," Agzamov says. "So in the first six months I spent in Moscow I changed seven jobs. I got what I needed and I left. That's probably not entirely fair, but I was so obsessed with the learning process that I couldn't have expanded my knowledge otherwise"
View this post on Instagram
Renat Agzamov made international headlines last year for creating an impressive 13-foot tall wedding cake that reportedly cost $179,000. Designed as a fairytale castle complete with dozens of elaborate towers, balconies, tiny figurines and interior lighting, the 1500kg cake was commissioned for a high-profile Kazakh wedding.
View this post on Instagram
From whimsical castles and elaborate water-fountains that look like there's water flowing from them, to giant dragons and realistic ice mountains several meters tall, it seems like there's nothing Agzamov can't create out of confectionery.
View this post on Instagram
Check out more of Renat Agzamov's amazing cakes on his Instagram.
View this post on Instagram
These edible masterpieces remind me of another talented cake maker we featured a few years back – LeNovelle Bakery in Indonesia. If you're a fan of elaborate wedding cakes, you should definitely check out their impressive portfolio.
View this post on Instagram
View this post on Instagram
View this post on Instagram
View this post on Instagram
View this post on Instagram
View this post on Instagram
View this post on Instagram