Known as the "Brooklyn Transformer", Peter Kokis has become a very recognizable figure in New York, thanks to an arsenal of impressive robot exoskeletons made out of all sorts of everyday items.
A former military pilot, Peter Kokis started making his now-famous exoskeletons after joking around with an ex-girlfriend. At one point, during a conversations, she told him "you're too stiff, you need to loosen up and do something weird," and he decided she was right. Using his experience in aviation, he started piecing together things he had around the house into an impressive exoskeleton that became known as Squid Boy. But that was only the beginning, as over the years he made wearable costumes inspired by the likes of The Transformers, The Terminator or the Xenomorphs of Alien.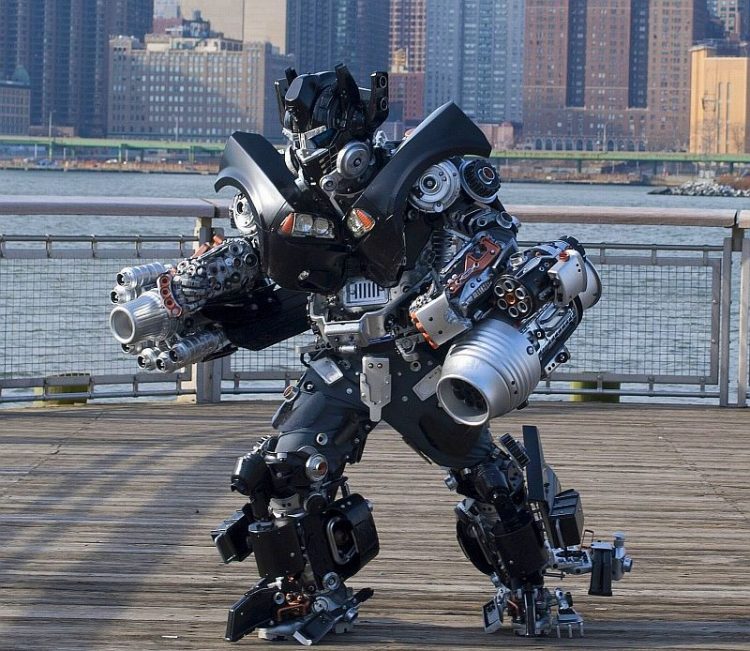 Photo: Peter Kokis
The Brooklyn-based performance artist builds his robot suits out of 100 percent recycled materials, sometimes salvaged from actual trash. Some include random items like can soup strainers, egg slicers, toilet paper holders, or kitchen drains, but you couldn't tell by looking at them, they are that well put together.
View this post on Instagram
"I actually use my experience in aviation to build my robots," he told Pix11. "So I make them redundant and I make them modular so I can upgrade them."
View this post on Instagram
Peter Kokis currently has nine unique exoskeletons, some of which weigh as much as he does. But it's not the weight that makes them hard to wear during the summer, it's the heat that builds up inside. To that end, he trains his body by working in his home with all windows closed and no air conditioning on hot summer days. Alex and Aaron Craig, who covered Peter's work in their short documentary One Man's Trash, found that out the hard way.
View this post on Instagram
"It was easily 120 degrees inside his house," the Craig brothers told The Atlantic. "We were drenched in sweat while filming, but he was perfectly comfortable. He does it to have his body prepared for heat when he's inside the 170-pound suits."
View this post on Instagram
But, Kokis, who built all of his impressive exoskeleton on his kitchen table, has sacrificed more than comfort for his passion. He has given up on romantic relationships after being given a choice between his robots and his girlfriend.
View this post on Instagram
"There's no one in the world who does what I do the way I do it," Kokis told News12 Brooklyn. "I design them and build them like an aircraft with redundancy. With thousands of parts, this is not something simple that I gather."
View this post on Instagram
If you find yourself walking strolling on the Coney Island boardwalk during the spring and summer and come face to face with a real-life Transformer or Terminator, try not to panic, it's most likely just Peter Kokis doing his usual routine.
View this post on Instagram
For more of Peter Kokis awe-inspiring exoskeletons, check out his official website, Brooklyn Robot Works.
View this post on Instagram
View this post on Instagram
View this post on Instagram
View this post on Instagram
View this post on Instagram
View this post on Instagram
View this post on Instagram
View this post on Instagram
View this post on Instagram
View this post on Instagram