If you've ever wondered what Jojo's Bizarre Adventure's protagonist Jotaro Kujo would look like in real life, one Italian cosplayer has the answer.
Taryn is an "international cosplayer & professional performer" from Italy who specializes in bringing popular male anime and video game characters to life using detailed costumes and makeup. His portfolio is nothing short of impressive, featuring real-life impersonations of characters like The Witcher's Geralt, Arataki Itto from Genshin Impact, Ryomen Sukuna from Jujutsu Kaisen, gaming many, many others. But the one that really got people's attention this year was Taryn's Jotaro Kujo cosplay, which, in many people's view is simply flawless.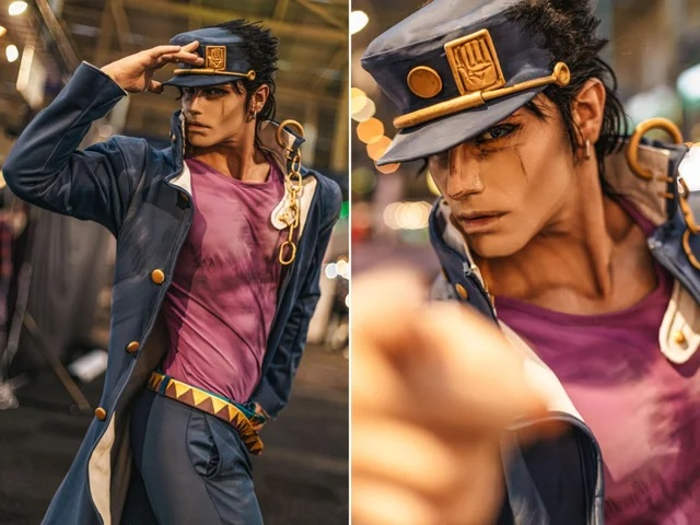 Photos: Taryn/Instagram
Looking at the photos and clips of Taryn as the protagonist of Jojo's Bizarre Adventure, it's hard to believe that the Italian cosplayer spent just four days creating the iconic costume and makeup. To be fairly Taryn's chiseled jaw and enviable physique helped more than a little, but the man also got his poses on point as well to really bring the popular character to life.
"ORA! ORA! ORA! ORAAA! Time to stand Proud more than ever and finally show you the first official preview of my new JOTARO cosplay," Taryn told his fans. "I created the whole cosplay in only 4 days. I knew how much you all were waiting for me to cosplay Him and I did my best to bring this special boy to life at BEST."
Taryn's Jotaro cosplay has been going viral on TikTok for months now, and it seems like every clip he posts on there is guaranteed to get millions of views. And for good reason, as you'll have a hard time finding a real-life version of the Jojo's Bizare Adventure star anywhere.
If you're an anime, video game or general cosplay fan, do yourself a favor and check out Taryn's Instagram and TikTok, you will not regret it. I had no idea professional cosplay was a thing, but this guy is definitely a professional!