Mary Kenyon, a self-taught artist from California transforms real seashells into stunningly-beautiful jewels that have this very vintage charm to them.
A self-confessed "crafts addict", Mary Kenyon inherited her passion for arts and crafts from her father, who was a talented oil painter. They did a lot of different things together, from painting to leather carving, and after he passed away, Mary inherited his workshop and was inspired to use all those tools and supplies to come up with a whole new art form.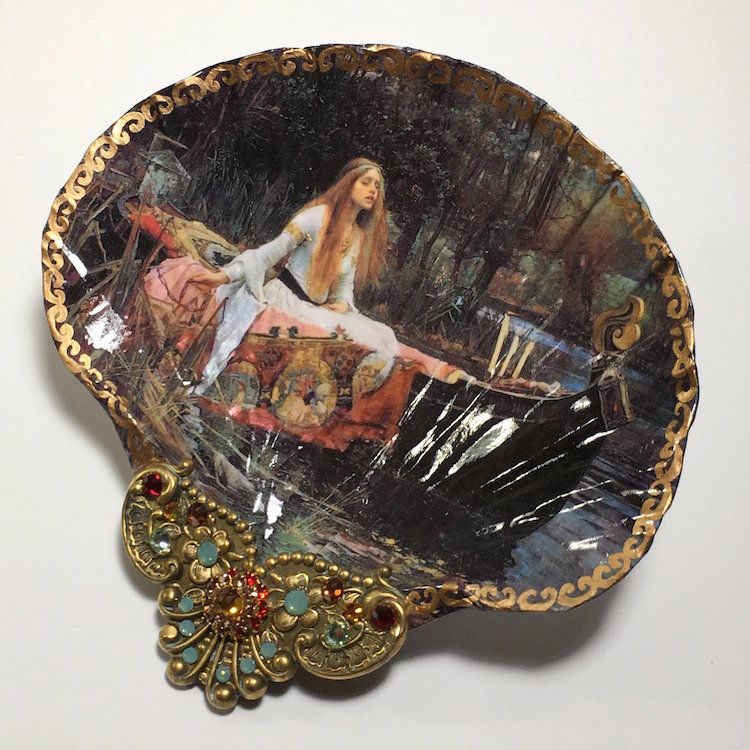 "We did everything from carving leather to oil painting on canvas. When he passed away I inherited a studio full of tools, leather, paint and canvases. With that much inspiration around me how could I help but feel creative and inspired," Mary told Buzzfeed.
View this post on Instagram
The artist starts by decoupaging an image onto the real seashell's surface, then hand-paints decorative details using gold gilding paint, and finally attaches three-dimensional decorations like brass and colorful Swarovski rhinestones. The artworks turn out like nothing I've ever seen before.
View this post on Instagram
Kenyon's first created some seashell jewelry for her sister, as a gift. She loved them so much that she encouraged Mary to start selling them. She started an online Etsy shop, and before long she was struggling to keep up with demand. She has been on Etsy for a decade now, and the hundreds of reviews on there express just how popular her creations are.
View this post on Instagram
"This is my 5th purchase of these beautiful shells and it's stunning! 3 of them were gifts and so is this one for my friend who loves mermaids. Every shell I've purchased has been beyond perfect. I got one with the peacocks, a dragonfly, butterfly, hummingbirds. I will keep buying more for gifts because they are so unique and gorgeous!" one woman wrote.
View this post on Instagram
"The reviews that I have had over the years have been rewarding and have given me the confidence to continue with my passion for art," Mary herself said.
View this post on Instagram
For more of Mary Kenyon vintage-looking seashell jewelry, check out her Instagram, where she regularly uploads photos an videos of her newest creations.
View this post on Instagram
View this post on Instagram