Aria, a talented Japanese artist who specializes in pencil drawings, has been getting a lot of attention for her jewelry series, a collection of hyper-realistic gem drawings that look better than their inspiration.
We first noticed Aria's exceptional talent earlier this year, when we featured her most impressive drawings here on Oddity Central, but she has been honing her skills ever since and she is already going viral once again with an entirely new series, one that focuses on precious stones. One of her new works, entitled "Amethyst", has gone viral on social media, with many users commenting that it actually looks better than an actual gem. Looking at Aria's stunning drawing, I can't say I disagree.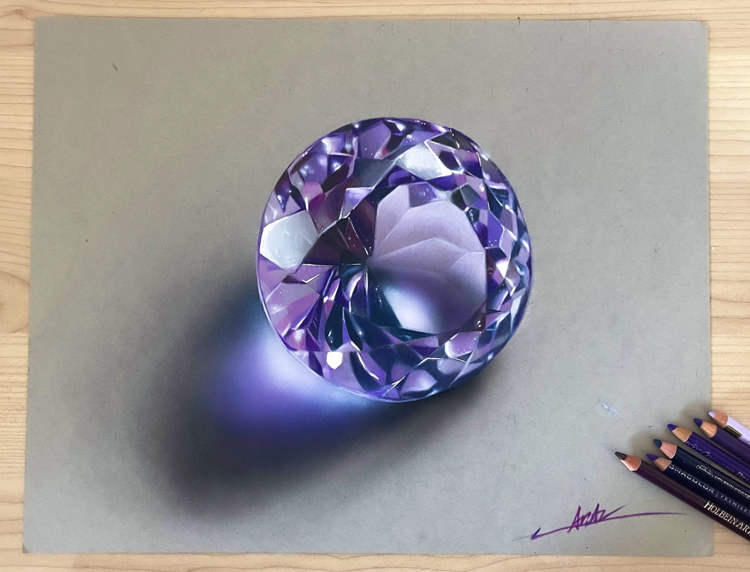 Photo: @Aririria_Art/Twitter
"I want to stare at it forever," one Twitter user commented.
View this post on Instagram
"It's amazing how you can make something that shines like this from colored pencils… How do you get it to shine like that?" someone else asked.
View this post on Instagram
Aria tried to answer her fans, saying that she spent about 10 hours creating Amethyst and that she used about 40 colored pencils, including 10 shades of purple in order to get the visual effect just right.
View this post on Instagram
"After drawing the grid lines (lines of equal width), I thinly drew the edges of the jewels with a pencil and then drew in the colors precisely," Aria told J-Town, although the way she managed to express the 3D effect, the transparency and the clarity of the jewel is still a mystery.
View this post on Instagram
Amethyst got the most attention online, but Aria has an entire series that focuses on gems of various shapes and colors, and they are all just as impressive.
View this post on Instagram
For more of Aria's work, keep an eye on her Twitter and Instagram, and for more stunning hyper-realistic drawings, we would strongly advise you to check out the works of Allessandro Paglia, the photo-like portraits of Shaun Mckenzie, and the feline drawings of Yuki Kudo.