Mexican artist Amadeus Garuda combines his passion for plasticine modeling and his love of all things geek to create some of the most stunning sculptures we've ever seen.
Amadeus, who goes by Dr. Garuda on social media, is a truly multitalented artist. He starts out by drawing a detailed sketch of his chosen character, in the particular pose he plans on recreating. He then start work on the metal wire frame of the sculpture itself, setting it over the sketch multiple times, to make sure it is correctly bent in the right places. Next, he crumples aluminum foil on the frame, and starts applying strips of red modelling clay. Using only his fingers, a scalpel and a cylindrical rod, he molds the clay into stunningly detailed anatomical parts, creased fabric, armor, and more.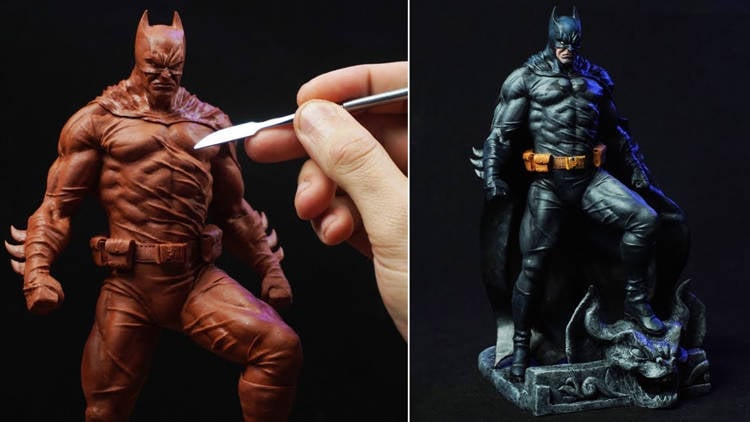 Photo: Dr. Garuda/YouTube
Dr. Garuda clearly has a very firm knowledge of human anatomy, as well as physics in general, as he is able to create incredibly realistic muscles and hair, as well as creased fabric and moving parts that create the illusion that the characters are in mid-motion.
View this post on Instagram
After he has finished sculpting his clay models, Dr. Gaaruda paints them using fine brushes and acrylic paint, to truly bring the characters to life.
View this post on Instagram
Not only are Garuda's sculptures stunningly detailed, but the fact that he often takes inspiration from geek culture for his works makes him even more awesome. From anime characters like Naruto or Dragon Ball's Goku, to Marvel's Hulk or Captain America, and even Hollywood action heroes like John Wick, his portfolio features some of the most popular fictional characters in history.
View this post on Instagram
Even though he has only been uploading making-of videos of his sculpting clay masterpieces for almost two years, Dr. Garuda already has over 600K subscribers on YouTube alone, and some of his clips have been viewed millions of times.
View this post on Instagram
For more of Amadeus Garuda's clay modeling art, check out his Facebook and Instagram.
View this post on Instagram
While you're here, take a look at these stunning fondant sculptures by China's Sugar King, and at the copper and brass masterpieces of Tsutamoto Dawiki.