Looking for an original Valentine's Day gift? How about a special Kotoka strawberry hand-picked in Japan that comes pre-packed in a special gift box? It's said to be very tasty, and it only costs $22.
City'super, a supermarket chain in Hong Kong, has come under fire recently for selling what many have called "the most expensive strawberry in the world". Priced at 168 HK dollars a piece, these Kokota strawberries are apparently hand-picked to ensure that only the finest specimens hit the market, and flown in from Japan. They come individually packaged in plastic-covered paper boxes, complete with a straw nest and Styrofoam "sock", to emphasize their exclusivity. Photos of the ridiculously expensive "designer fruits" have been doing the rounds on social media in Hong Kong and mainland China, with most people declaring themselves appalled by the display of decadence.
The supermarket, which advertises itself as a "mega lifestyle specialty store", has responded to the negative feedback by saying that the retail prices of its products are based on a number of factors, including purchase price, transport costs, market conditions and product exclusivity. City'super representatives also added that the supermarket was merely trying to offer "more choices of premium fresh produce to Hong Kong customers", and that the Kotoka strawberries were intended as special Valentine's Day Gifts. After all, who doesn't find a $22 strawberry romantic.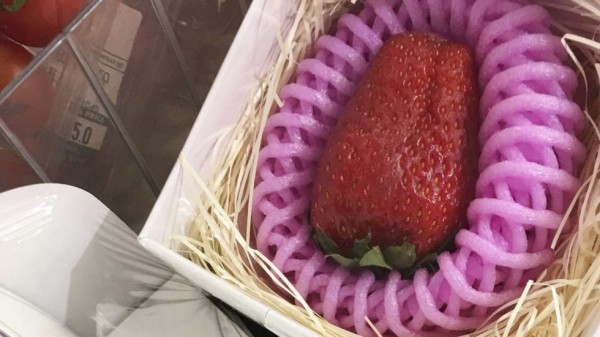 Photo: SCMP
"The strawberry gift box was imported from Japan with its original packaging given its premium grade, rarity and fragility for quality protection," the statement read. "From Kotoka, the strawberries are considered as delicacies of limited quantity and they are handpicked to ensure only the highest quality ones are harvested. It is intended as a Valentine's Day gift."
Grown in the Japanese city of Nara, near Osaka, Kokota strawberries are considered rare fruit, and are famous for their "good acidity and rich sweetness". However, for the thousands of people who have declared themselves shocked by the bizarre product, these qualities aren't enough to justify the price tag.
"Citysuper is ridiculously expensive!! Jeeez! HKD168 for ONE strawberry! Bloody hell!!" one person wrote.
"City super need public shaming… I don't shop there anyway… mostly since prices are criminal and so is their packaging," another commented.
To be fair, if these photos had been taken in Japan, no one would have said anything. The "designer fruit" culture is still very strong there, with people spending hundreds of dollars on a rare apple, so they can offer it as a gift to someone they respect. Although, to be honest, I haven't seen individually-sold strawberries there, either. Even the rare ones usually come in a set of at least half a dozen.
Sources: Hong Kong Free Press, SCMP