From flamboyant wedding cakes shaped like fantasy castles, to edible optical illusions, we've featured some amazing cakes here on OC, but this collection of marine-themed treats definitely take the cake!
The Covid-19 pandemic has made vacationing in a tropical island paradise a lot harder this year, but you can satisfy your craving for tropical destinations as well as your sweet tooth with some ultra-realistic paradise island cakes. We didn't even know something like that even existed, but it turns out some cake masters are so skilled that they can recreate a tropical island setting using regular baking ingredients, food coloring and jelly.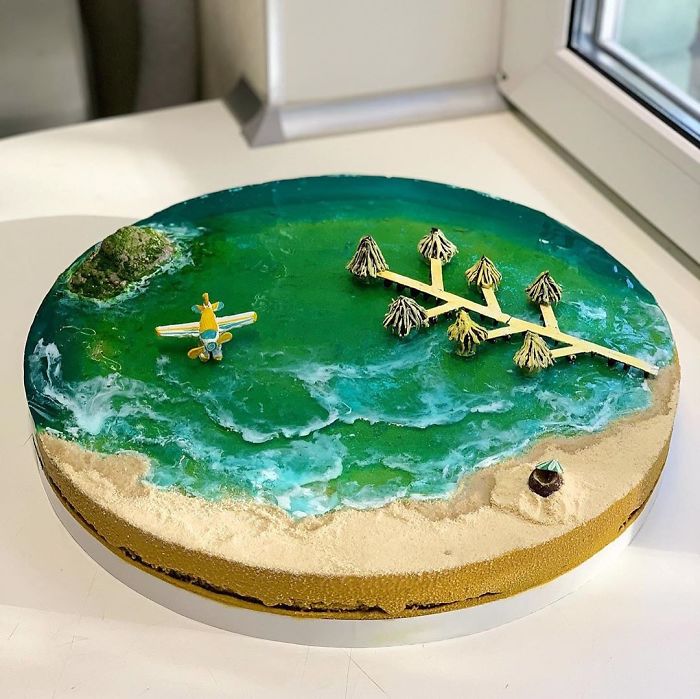 Photo: dolnik.art.cake/Instagram
Looking at some of these elaborate cakes, it's hard to believe that they are 100% percent edible. Just look at the details in some of them, from the foamy waves to the marine wildlife and even the edible sand.
View this post on Instagram
Reminiscent of the cool dye-injected jelly cakes of Malaysian cake artist Siew Heng Boon, these intricate island cakes also feature layers of sponge and various creams, which act as the "land" parts of the design. The blue-colored jelly obviusly makes up the marine parts.
View this post on Instagram
"When baking this cake, the key thing was finding the right consistency for the jelly, without sacrificing the flavor. A cake has to not only look good but taste as well," one of the bakers specializing in this sort of cakes said
View this post on Instagram
This collection of marine-themed cakes was posted on Bored Panda just the other day, and we found it too awesome not to share on here as well.
View this post on Instagram
View this post on Instagram
View this post on Instagram
View this post on Instagram
View this post on Instagram
View this post on Instagram
View this post on Instagram
View this post on Instagram
View this post on Instagram
View this post on Instagram
View this post on Instagram
View this post on Instagram
View this post on Instagram