In the currently oversaturated market of ride-sharing, entrepreneurs strive to out-innovate one another by offering unique perks. One such pioneer is Timothy Hochstedler from Colon, Michigan, who's created a one-of-a-kind "Amish Uber". He isn't actually affiliated with Uber, but has stepped up to fulfill the needs of an area lacking in taxi options.
Nowadays, when you want to get somewhere and you don't have a car, or don't want to drive, all you have to do is whip out your smartphone, open up the app for Uber, and you'll get a lift to your desired destination within minutes. But while other regular ride-share passengers climb into a car, Timothy's customers step up into a horse-drawn buggy. For just $5, he will take riders throughout Colon on a scenic trip to wherever they desire.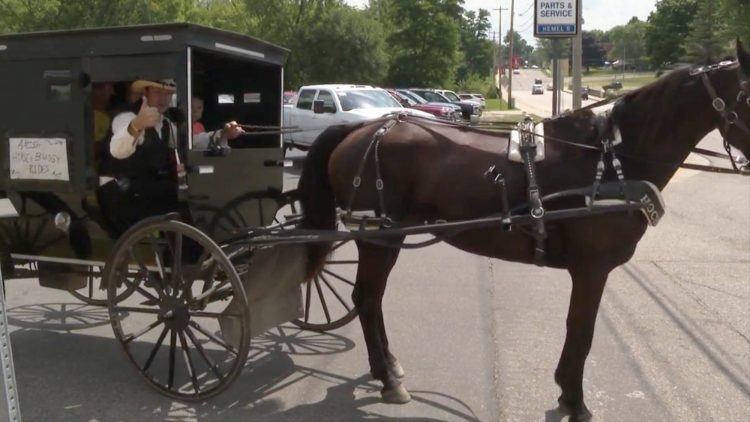 Photo: WWMT video screengrab
"Most of them aren't from Colon, but the Colon people have given me a few options like: 'Would you give me a ride to Curly's? Would you go to my house?' And, yeah I'd do that," Hochstedler said.
But how do you catch a ride from Timothy and his horse, when the Amish are forbidden from using electronic devices? He certainly doesn't have an app, or even a smartphone, for that matter. Well, he simply rides around town with his buggy, advertising his services as "Amish horse buggy rides: $5". Instead of making a request on your smartphone, you'll have to flag Timothy down, then hop in his buggy. As with Uber and other ride-shares, you can also choose to have others picked up on the way so you can split the costs.
So what do Timothy's passengers think about their experiences?
"It was fascinating. It's not an activity you typically associate with the Amish," said Bruce Jordan, an out-of-towner who treated his grandchildren to an Amish Uber ride around the area.
Locals also seem to enjoy this unusual service.
"I don't think there's Uber down here, so it's pretty cool. It gives people that option that can't drive or don't want to drive or shouldn't drive," said Becky Phelps, a regular Amish Uber passenger.
So the next time you find yourself in Colon, MI, take the extra time to look around for Timothy's horse and buggy; he's always a friend to everyone who hitches a ride with him, plus his horse is extra-friendly. So not only will you get to enjoy good company, but you'll also get to take in the beautiful sights of Colon without the distractions of having to drive.