From Saturday Night Live's Alec Baldwin to professional impersonators like John Di Domenico or Anthony Atamanuik, people have been trying their hardest to emulate Donald Trump for comedic or promotional purposes. But no one does it quite like 64-year-old Li Liangwei, China's top Trump impersonator. And I don't  mean that in a good way…
The retired chief editor of a magazine in Hunan, Li Liangwei took up the job of Donald Trump impersonator after a friend told him that he acts just like the President of the United States. He has since been picked up by a big talent agency and is earning a pretty penny promoting products and events as the 45th US President.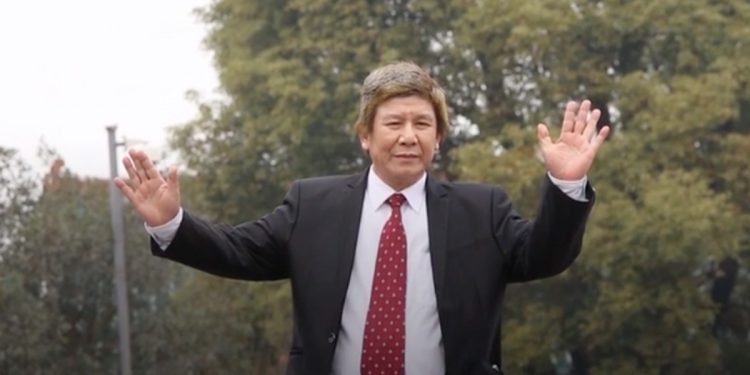 Photo: video screenshot
"[One time], somehow, I was kind of upset, so I put down my glass and stood abruptly, and with a sweep of my arm I announced 'I have the say here!'" Li recently told TIME Magazine. "One of my friends said 'Do that again', so I repeated the gesture and then  he said 'You look just like a person.'"
That person turned out to be Donald Trump, but Li, who spent most of his time at home, cultivating his two biggest passions, martial arts and revolutionary songs, had no idea who he was. But the more he learned about the American President, the more he liked him, so he decided to become his impersonator, copying his gestures and attitude.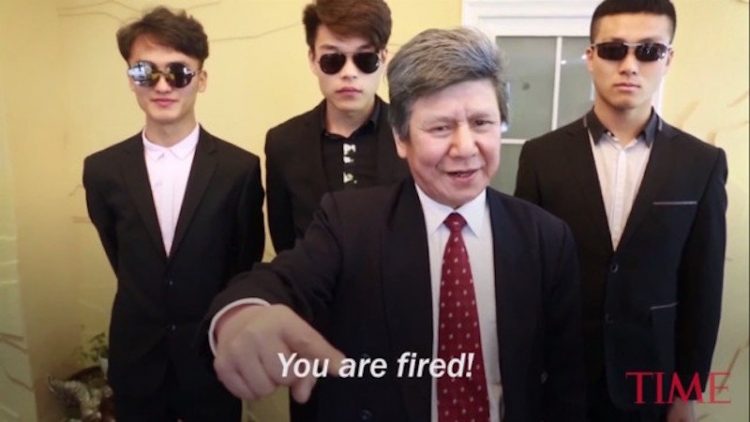 Photo: video screenshot
Li was eventually approached by Zou Dangrong, a TV and film director, who runs a talent agency that specializes in impersonators. He already managed two Barrack Obama impersonators and another of North Korean leader Kim Jong Un, so when he heard about a Donald Trump impersonator in China, he decided to add him to his roster.
But while Zou's other impersonators actually look a lot like the people they are supposed to imitate, Li couldn't be more different that Donald Trump. Being Chinese doesn't really help, but he also speaks no English, has thick jet-black hair and his skin is powdered white, not orange. The only thing vaguely reminiscent of the US Persident are Li's hand gestures.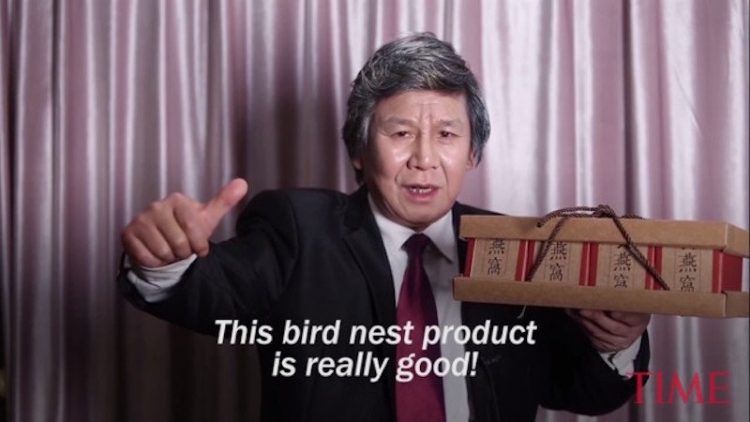 "It's not easy for a Chinese man to assume the appearance of an American man, but I try to imitate the temperament and spiritual statement of Trump," Li told Global Times, in December 2016. Since then, he has been training under Zou's guidance, but doesn't appear to have made much progress.
However, Li Liangwei's poor impersonation of Donald Trump doesn't seem to stop people from spending big money to have him promote their products and attend various events. Zou said that prices for booking Li will be between 10,000 yuan to 15,000 yuan ($1,146-$2,169), depending on occasions and events.