A Tokyo dessert shop has become famous for selling a soft-serve ice-cream covered with generous amounts of matcha powder that makes people choke when they eat it.
Remember the cinnamon challenge from about a decade ago? You should, it was one of the most popular internet challenges ever and even has its own Wikipedia page because of that. Anyway, the challenge was to eat a spoonful of ground cinnamon in under 60 seconds, without drinking anything, with the video of the attempt being uploaded to the internet as evidence. I don't know how popular the cinnamon challenge was in Japan, but it seems that they actually have their own milder version, which involves eating a soft-serve ice-cream covered with matcha powder, without coughing or gagging.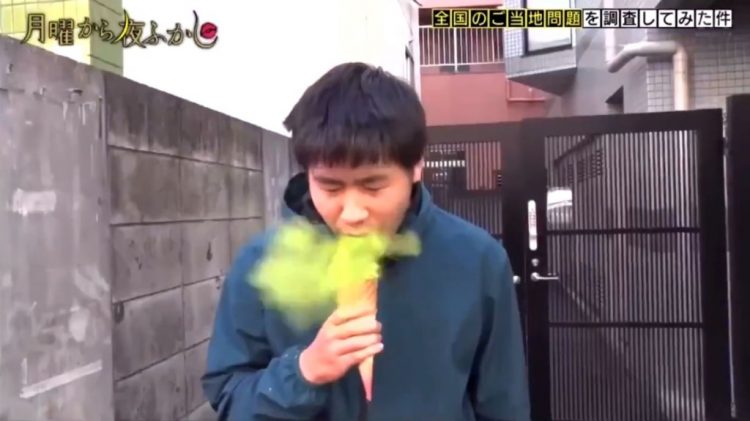 The Nagamine Tea Store in Tagata, Tokyo, has been serving its popular matcha green tea ice-cream for at least four years, but it recently went viral after being featured on national TV entertainment program, Monday Late Show. The segment focused not on the quality or taste of the ice-cream, but on the effect it had on many of those who tried it.
View this post on Instagram
Videos played during the TV show featured people trying to take a bite of the ice-cream, only to start coughing, as the cinnamon-like matcha powder instantly coated and dried their mouths and throats. It's not as bad as eating a spoon of cinnamon, because the soft ice-cream reduces the dryness, but it's still pretty bad.
View this post on Instagram
As you can see in the photos, the matcha-flavored ice-cream is pretty much covered in a blanket of matcha powder, so if you take it in a cone, and take a big bite, you're almost guaranteed to choke and start to cough. Taking small bites, or eating it from a cup, with a spoon, helps.
View this post on Instagram
If you're curious about the taste, this basically a matcha green tea supercharged dessert, with the bitter matcha powder balancing out the sweetness of the soft-serve ice-cream. It's been a best seller at the Nagamine Tea Store for a while now, but the recent TV featurette is sure to cause sales to explode.
View this post on Instagram
While many on social media have declared themselves excited to try the powdery treat, there were a lot of comments about the dangers associated with eating the ice-cream, like choking or inhaling the powdered matcha and possibly developing respiratory conditions like pneumonia or collapsed lung. Some even wondered how the owner had the guts to sell such a product, with this kind of risks involved.