'Kissing the Coronavirus' is a steamy 16-page e-book that's as wacky and funny as it is disturbing. It's basically about a female doctor who ends up falling in love with the Coronavirus after a vaccine trial gone wrong.
The 16-page e-book, which launched on Amazon on April 22, tells the story of Dr. Alexa Ashingtonford, a scientist tasked with finding a cure for the Coronavirus who ends up falling for the enemy. When a trial vaccine is injected into a fellow scientist, he dies and becomes the virus in human form, leaving the good doctor overcome with desire. The book cover features a woman kissing a green-colored man who isn't the Hulk, but – you guessed it – the Coronavirus, and if that doesn't get people's attention, the short description certainly will: "She was supposed to cure the Coronavirus. Instead… she fell in love with it".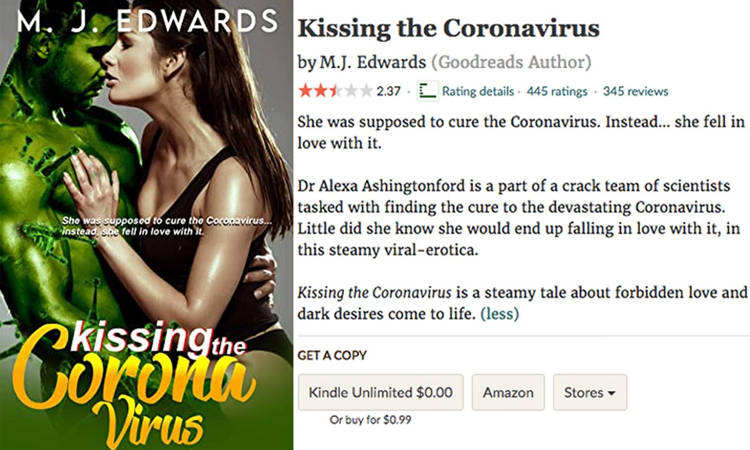 Kissing the Coronavirus has been available since April, but has only been getting attention recently, after it went viral on social media. It currently has a rating of 4 out of 5 stars on Amazon, and user reviews appear to be mixed, with some slamming it as a complete waste of time, and others calling it hilarious, a well-done parody, and definitely worth the ¢99 price tag.
"I don't know whether to give this 5 stars or 1 star,' one Goodreads user wrote. "Don't get me wrong, this book is awful. Absolutely horrible. But in the best possible way. It is exactly what I wanted it to be."
"This was hands down the funniest thing I've read. Disgusting, disturbing, medically inaccurate, but such a funny read," someone else posted.
Covid-19 and the coronavirus are no laughing matter, but you have to admit that first-time author M.J. Edwards's book idea puts a smile on your face. The Coronavirus in human form at the center of an erotica e-book? Definitely not something you see or hear about every day.