In a controversial case that has been the talk of a whole country these last few days, a 13-year-old girl went on TV to tell the world that she is pregnant with her 10-year-old boyfriend.
The two children, Darya and Ivan, recently appeared on Russian television show "On Air Live" to tell their story, get tested and be confronted by experts about their controversial pregnancy. Reports of Ivan having impregnated his 13-year-old girlfriend had been going around Russian social media all last week, but the couple's parents gave their permission for them to finally show their faces to the world. The 13-year-old girl claimed that she had not been intimate with other boys than Ivan, and her version was believed by a psychologist, but then other experts produced evidence that Ivan was too young to leave anyone pregnant.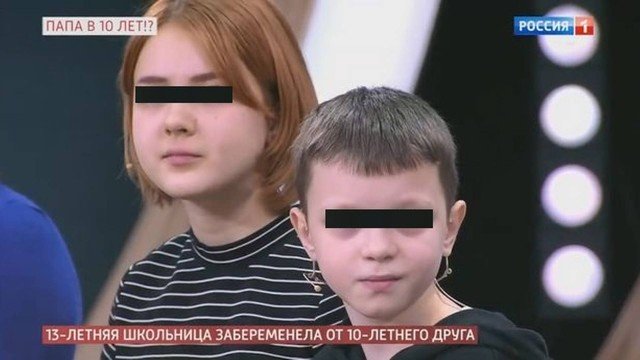 "We rechecked the laboratory results three times so there cannot be any mistake," Dr Evgeny Grekov, a urology and andrology expert, said on the show. "There cannot be sperm cells. He is still a child. There is even no testosterone. And just to add, he still has childish sex organs. Puberty has not started. So we have a lot of questions."
But despite Grekov's evidence, both the young couple and their parents insist that Darya's version is the accurate one. They had intercourse one time, at Ivan's home, and the 13-year-old got pregnant. She admitted to thinking that a 10-year-old couldn't possibly do something like that, but she now claims she was wrong.
"It was Vanya's idea, but I did not mind," Darya said. "I did not think that at age 10 he can do such things, I thought that nothing would happen."
Ivan himself said that he didn't think he could get his girlfriend pregnant, but when asked if it was possible that the child wasn't his, he said "that cannot be".
"I believe to my son when he says that he is the father," Ivan's mother, Galina, said. "I understand that he himself maybe doesn't realize what happened, he is just a child, no matter if he considers himself older."
Both Darya and her mother want to keep the baby, but at this point a DNA test to determine if Ivan is the father cannot be conducted. According to Russian sources, such a test will be conducted later.