The popular Zeezicht Cafe, in Antwerp, Belgium, has recently stopped serving Coca Cola, Lay's potato chips and every other American brand previously on its menu, in protest of President Donald Trump and and his controversial executive orders.
"No, it's not a joke. All American drinks will disappear from the menu as long as Donald Trump's policy does not change," one of the owners of Zeezicht told Belgian reporters. "A few days ago, we gathered all the staff and found that something had to be done against the policy of Donald Trump, so someone launched the idea of ​​no longer selling American beverages or food. An economic boycott is probably the only measure Trump can understand."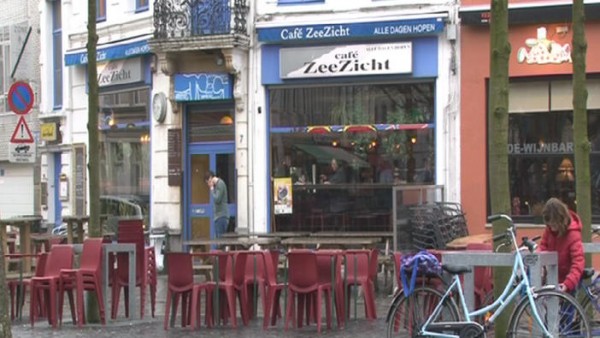 Photo: atv.be
Babs Cossaert, one of the managers at Zeezicht said that Trump's policies and views are often criticized there by both the staff and patrons, and at one point they thought it was a little hypocritical of them to express their disapproval while serving drinks owned by the Coca Cola Company or croque monsieur with Heinz Ketchup. So they decided to remove all American-owned brands, from snacks and drinks top cigarettes, and find alternatives, even if they are more expensive. "Something had to be done" Cossaert told VRT Radio Antwerp. "This is why we are only selling products we believe in. We are who we are and follow our own principles."
The owners of Zeezicht are aware of the fact that Donald Trump will probably never even hear about their little boycott, but they are not doing it to get his attention. "This is for our own peace of mind, it's a statement we want to make," Cossaert said. "With this we want to show that we do not agree with his right-wing politics."
"It is true that we used to sell a lot of Coca Cola and Chaudfontaine sparkling water (owned by the same company), but we will replace these drinks with Belgian alternatives," said David Joris, another owner of Zeezicht. "The Flemish brewery Roman will provide us with a cola drink and we will buy water from the Val brand now, and the Lay's American chips will be replaced by the Belgian brand Croky."
Belgian newspaper Der Standard asked the owners if they realized that their boycott sounds just as protectionist as Trump's views, to which they replied "That's debatable. We only feel that this is the thing that we can do to show that we do not agree with the direction taken by the policy. It's a small thing, but it's something."
Asked if the boycott is likely to scare away customers, David Joris said that that is not likely to happen, adding that the disapproval regarding Donald Trump is widespread, and most of their patrons agree with the boycott. The owner said that American products will remain off the menu at Zeezicht as long as Donald Trump is in power, or until he decides to abandon his radical approach.
The sad thing is that some of these companies actually disapprove of Trump's actions too, but they can't do very much about it. Not to mention that most of the products, though American in brand, are actually made in Belgium, by Belgian workers.