Paul Ferrell, a British ex-pat who has been living in Taiwan for the last 13 years, recently decided to show everyone how much he loved the small Asian country by getting a tattoo of its Chinese name on his forehead and its green independence flag inked on his chin.
Ferrell became the talk of the town in Kaohsiung, Taiwan, where he owns a popular bar, after getting the unusual tattoos inked on his face. He claims to have made the "rash decision" after a night of heavy drinking and a passionate discussion about Taiwan's independence. The British ex-pat recently told reporters that he was inspired by his love for Taiwan, but insists that he would not have gone through with his impulse, had he not been so drunk at the time.
Photo: Paul Ferrell
"I'm stupid, I love Taiwan. That's why I did this," the 32-year-old said. "But I wouldn't have done this had I not been drunk. My wife doesn't like it. She's very angry." That's putting it lightly, as according to some news reports, Ferrell's Taiwanese wife, whom he met on a holiday in Australia in the mid 2000s, has left him over the tattoos, although it's not clear if she's also filed for divorce.
Taiwanese media reported that Paul Ferrell walked into the nearest tattoo shop he could find and just asked the artist there to ink the Chinese characters for Taiwan and the country's green independence flag on his forehead and chin. After photos of Paul's tattooed face started doing the rounds online, many accused the tattoo artist for taking advantage of a drunk man, but he recently came out to defend himself against these accusations.
Wei Cheng, the artist who worked on Paul's face, insists that he asked the man several times if he really wanted to get the tattoos on his face, even going as far as telling him that they might cause trouble with the police.
"Are you sure you want to tattoo this on your face?" Wei claims to have asked Ferrell, to which he replied: "I love Taiwan. Tattoo it on my face."
"Though reeking of alcohol, the man spoke clearly and answered my questions without ambiguity. We discussed where he wanted to place the two characters before I asked him again, 'Do you really want to tattoo it on your face?' He insisted that was what he wanted," the tattoo artist told Taipei Times. "I told him he could even be pulled over by the police, but he said he would change his passport photo."
Paul's story went viral after he visited another tattoo artist, hoping to have the tattoos modified or removed. Since they are very large, the artist posted some photos of the guy on social media, asking people for advice on how he should go about helping him.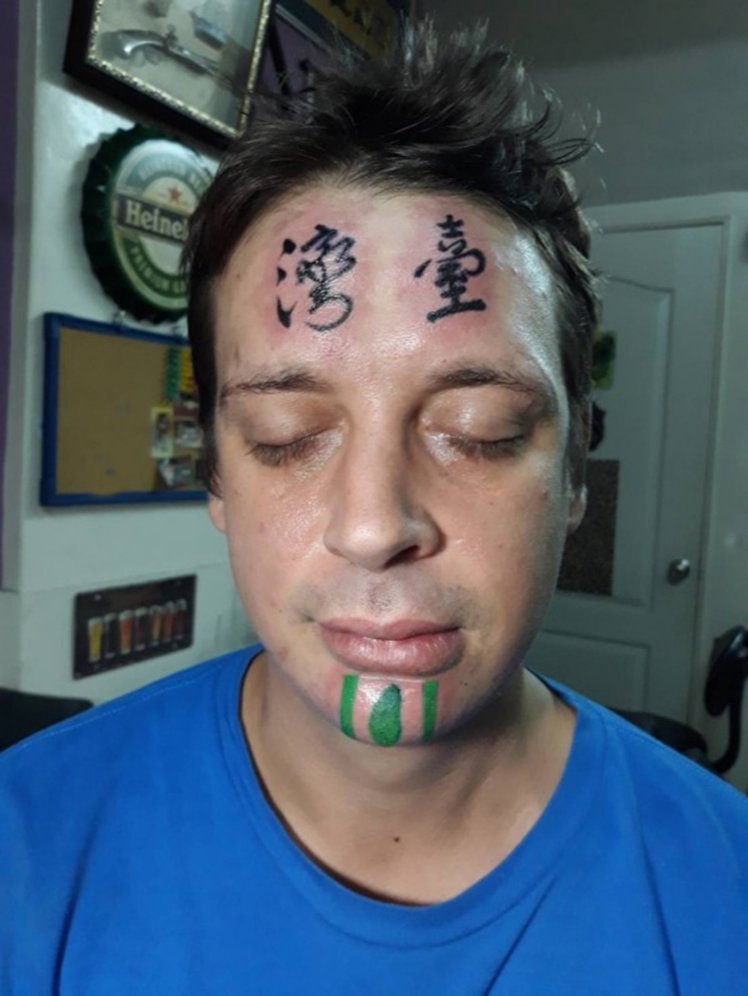 Photo: Wei Chen
Ferrell also posted some photos of himself on his Facebook account, acknowledging that he had made a big mistake. "I got very very very drunk and got a stupid tattoo on my face!," he wrote. "I love Taiwanese independence but I'm well aware of how stupid it was to get done. Just how bad do you think it is?"
Apparently, Paul Ferrell's love for Taiwan is no joke. A known supporter of Taiwan's sovereignty and independence movement, he also got a tattoo of the independence flag on his arm last year, and he once chose to return to the island country even though he knew he would be thrown in jail.
A couple of years back, Paul's drunkenness got him in trouble again. Angry that a convenience store clerk wouldn't serve his hamburger with ketchup, he improvised a petrol bomb and lit the place on fire. He managed to skip bail and flee back to the UK, but returned just a few months later, saying he would rather spend some time behind bars than leave Taiwan. "England sucks, I love Taiwan,'" he reportedly told his cell mate.
Doctors said that Paul will have to undergo 10 painful laser sessions if he wants to get his face tattoos lightened, and a lot more if he wants them removed completely.
This is obviously not the first person to get a stupid face tattoo and regret it soon after. A few years back, a young girl made headlines after getting 56 stars tattooed on her face. She claimed she only wanted 3, but fell asleep on the tattoo artist's chair and he just inked 53 extra stars…