They say claw machines are rigged to prevent users from actually catching a prize, but one Chinese man seems to have learned their secret. In just one year, Chen Zhitong has amassed a collection of over 15,000 plush toys from claw machines.
When we first heard about Chen Zhitong, about a year ago, he was making headlines in China for his ability to control claw machines in his home city of Xiamen. He had already collected over 3,000 toys at the time, which is a lot more than most people catch in a lifetime. But our boy has been very busy this past year, and now his collection of claw machine toys stands at a whopping 15,000. That has to be some kind of record!
Chen's reputation as a claw machine master has now transcended Chinese borders, and he was recently featured in a short documentary by Great Big Story. In it, he talks about how he chooses the claw machines he plays at, his relationship with claw machine operators and what he does with all the toys he wins.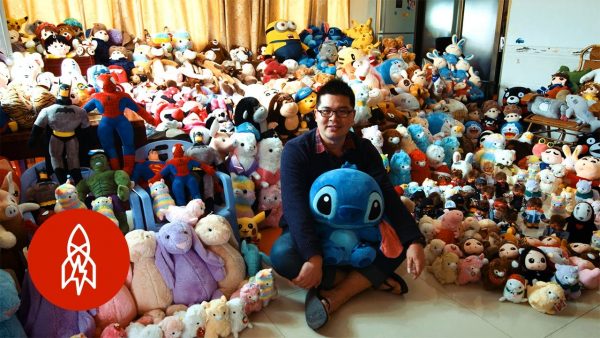 Photo: Great Big Story
As we mentioned in our original article on the "claw machine maestro", Chen Zhitong first played claw machine a couple of years ago, as a way to kill time at the local shopping mall. He liked it, and whenever he visited the Xiamen mall, he would play a few rounds of claw machine. In just a few months, he got so good at it that he cleared one of the machines of toys, and people started gathering around whenever they saw him play.
Chen says that he has become the bane of claw machine operators at Xiamen mall, but since they can't legally keep him from using their machines, they often take him out to dinner and politely ask him to stop using their devices.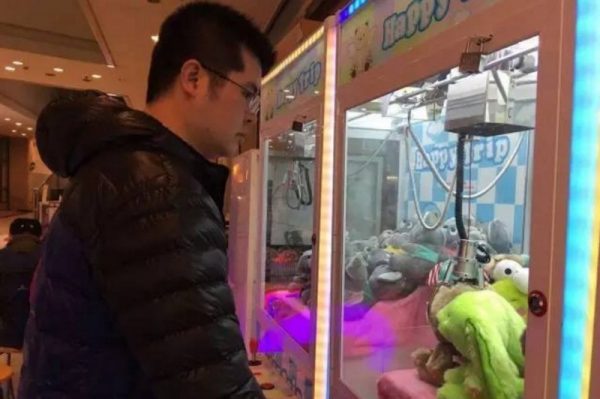 Photo: Netease
The 35-year-old IT worker says that there are two types of claw machines – ones  that actually requires skill to beat, and others that are programmed and are impossible to beat, no matter how good you are. Obviously, he only uses the former, but even then he keeps an eye out for certain factors that influence the chances of successfully catching a toy.
"First is the claw's holding capacity. It needs to be tight enough," Chen says. "Second is the angle of claw rotation. Third is the layout of toys. These parameters decide whether you are able to get a toy out."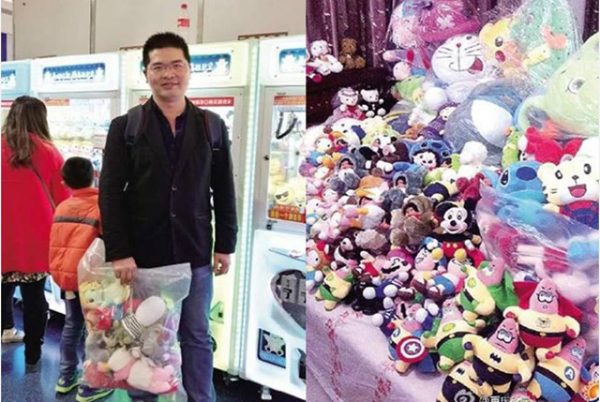 Photo: Netease
Zhitong realized early on that he had a gift, and after comparing his achievements to those of other claw machine enthusiasts around China, he is convinced that he is the king of claw machines, at least in the Asian country. "I once saw a university student put online a picture of his collection, saying 'claw machine owners are already crying their hearts out! I saw it and laughed it off, it wasn't even one-tenth of my collection, thank you very much."
Even when he had just 3,000 toys collected from claw machines, Chen Zhitong complained about lack of storage space in his home, but now, with over 15,000 prizes under his belt, things are really getting serious. Luckily, he has found a way to clear up some space and bring joy to kids who nee it most, at the same time.
"Having gained so many toys has become a problem for me, they have filled up my apartment and become a real burden, " the claw machine master told Great Big Story. "I realized that I should give these lovely toys to people who need them, so last year I donated about 1,000 toys to schools for the deaf and the blind."