Juan Carlos Alvarado, a young entrepreneur from Medellin, Colombia, claims he makes hundreds of dollars per day selling bottles of air from his home city.
Medellin, Colombia's second-largest city, is known as the "City of Eternal Spring," because of its pleasant climate all year round. But you can't sell climate to someone thousands of miles away, now can you? Air is a whole other matter though, and it's actually a tried-and-true business model. People have been selling cans of fresh air and bottles of fresh air to people in polluted countries like China for years, and it was actually these success stories that inspired Juan Carlos Alvarado, a native of Medellin, to start his own air-selling business.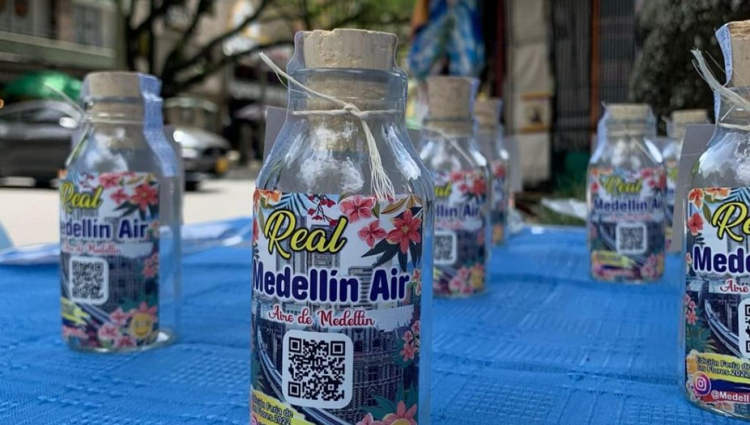 "Here we store the air of Medellín, which is special, a jewel," Alvarado said. "We do not pack pure air, but that of the city, as it is. Of course, I make sure that it is of quality."
The young businessman, who also tried his hand at singing, claims to have created a special method of capturing the air and packaging it in small glass bottles, which have to be thoroughly cleaned to ensure the absence of any kind of odor.
View this post on Instagram
"I created an efficient device, an air collector, that takes between 15 and 30 minutes to trap the particles to generate that feeling of spring. It is 100% natural,", the entrepreneur said, without actually revealing the method, allegedly because it isn't trademarked and someone might steal it…
Juan Carlos Alvarado claims to have sold 77 bottles of air for $5 each on the first day alone. Inspired by his unexpected success, he doubled down on his business, and by the third day, he was allegedly selling around 300 bottles to tourists in Parque Lleras, in Medellin's El Poblado.
View this post on Instagram
"I want to get ahead with my artistic career and this is one of the crazy ideas that have occurred to me given the difficulty of getting sponsors," Alvarado said. "Bottled air can make you laugh at first, but this is a ready-made product."
Medellin Air has been getting a lot of attention on social media as well as on national television in Colombia, bringing in even more customers for Alvarado. He has since set up social media pages for his unique product to help him sell even more.
Although some have called Alvarado a scammer for charging serious money for an empty bottle. He disputes those accusations vehemently.
"People criticize me as a scammer, but it's a tougher business than it looks. It's never easy to fill a bottle with air. It takes 15 minutes at the shortest and 30 minutes at the longest to put the clean air of Medellin into the bottle," he explained.