South Korean beauty brand Innisfree has attracted a lot of criticism after a bottle labeled as being made of paper turned out to be plastic simply wrapped in thin cardboard.
Innisfree,  a company that specializes in naturally-inspired beauty products, apparently didn't expect anyone to actually check if the bottle for its face serum was actually made of paper, as suggested by the texture of the packaging and the "Hello, I'm paper bottle" branding printed on it. Only someone did check, slicing open the thin cardboard only to find a regular plastic bottle inside. This person posted photos of their discover on a Facebook group called "No Plastic Shopping," and it didn't take long for them to go viral.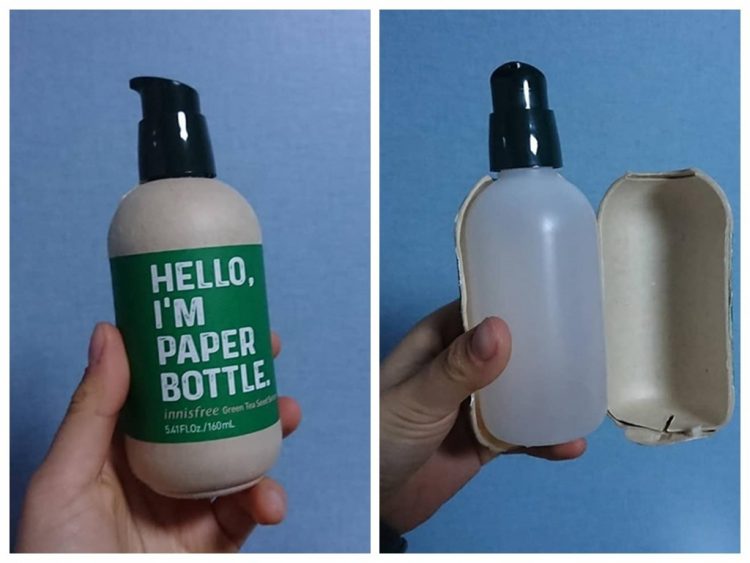 The customer reportedly posted in the Facebook group that they felt "betrayed when finding out that the paper bottle product was actually a plastic bottle," and their sentiment was shared by the other members, as well as by all the people who had tried Innisfree's Green Tea Seed Serum and believed it to have eco-friendly packaging.
South Korean media outlets were quick to cover the story, and the wave of criticism prompted Innisfree to issue a statement, only the company's explanation wasn't very well received.
"We used the term 'paper bottle' to explain the role of the paper label surrounding the bottle," Innisfree said in its statement. "We overlooked the possibility that the naming could mislead people to think the whole packaging is made of paper. We apologize for failing to deliver information in a precise way."

So they printed "Hello, I'm paper bottle" on a bottle seemingly made of paper and didn't realize people would assume that it's actually made of paper. Yeah, that sound like an honest mistake…
In an attempt to shift focus to the positives, Innisfree also mentioned that the colorless plastic bottle hidden inside the cardboard exterior is recyclable and eco-friendly as it uses 51.8 percent less plastic than conventional packaging. Also, that paper shell provided users with information on how to separate and recycle the packaging.
The person who first revealed Innisfree's deceitful packaging online told The Korean Herald that they found the company's explanation to be "insufficient", and accused it of "green washing" its labeling.
"Many of those who chose the given product were trying to reduce harmful impacts to the environment. I feel that (the company) took advantage of them (through misleading marketing)," the person, who preferred to remain anonymous, said.
Interestingly, Innisfree did put out a YouTube video about 8 months ago clearly showing that there was a plastic bottle inside that paper shell, but they could have definitely done a much better job of informing consumers…