What do you get a man who can buy anything himself? Well, it better be something special, and high end fabric manufacturer Scabal may have what you're looking for – a diamond-infused fabric that shimmers discretely but is surprisingly comfortable to wear.
In 2001, Belgian textile company Scabal changed the luxury fabric industry forever by introducing, Diamond Chip, an exclusive fabric infused with microscopic diamond fragments. The process of creating this intriguing fabric remains a closely-guarded secret, but what is abundantly clear is that the world's super-rich were so impressed by Diamond chip that luxury fabric manufacturers the world over started incorporating expensive materials like 24K gold, platinum or precious stones into their fabrics.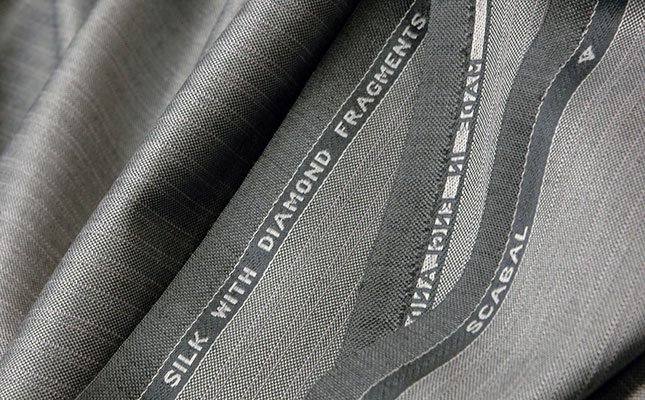 Photo: Scabal
"Just like some men want their top-of-the-range car to be customized, so we all have clients who ask us to show them only the most expensive cloths," one central London tailor told Financial Times in 2011. And that's where fabrics like Scabal's Diamond Chip come in.
To create Diamond Chip, the Belgian company, which produces most of its fabrics at its mill in Huddersfield, England, blends Super 150s merino wool with silk and powdered diamonds, through a process that has remained secret for almost two decades. The end result is a luxurious fabric that is not only wearable but quite comfortable, and that shimmers discretely.
Back in 2011, FT reported that Scabal makes several varieties of Diamond Chip, and that a bespoke two-piece suit made of this special material started at around £7,000 ($8,600), twice as much as one made of traditional high-quality merino wool. I'm not sure what the prices are these days, but I assume they have increased to well over $10,000. Online luxury fabric retailer Tissura sells one meter of Diamond Chip by Scabal for $735.
Diamond Chip remains the most exclusive jacketing fabric for truly luxurious suits, but to keep things fresh Scabal has adapted its secret process to create fabrics infused with a variety of other precious materials, such as lapis lazuli, gold or platinum.
"It is quite a small number of clients who want this type of cloth. I have a couple in Saudi Arabia and two more in New York," one Saville Row tailor told FT. "They are the sort of people who wear a £100,000 watch. There is a psychological thing about wanting to wear the most expensive example of something."