Wilfa Soto Peguero, a struggling mother-of-four from the Dominican Republic, thought her life was finally going to become easier after hitting it off with a Welsh man she had met online. After six months of online conversations, 46-year-old Glyn Thomas Bailey told Wilfa he wanted to visit and help her raise her kids. She made the big mistake of accepting his offer, and she has spent the last month and a half trying to get rid of him.
Wilfa and Glyn met on online dating site Badoo, and despite having to use Google Translate to understand each other's messages, they got along well, so when the Welsh man told her that he wanted to come meet her in person and help her raise her four children, Wilfa was thrilled. She told him to send her some money, so she could come meet her at the airport, but he never did. Glyn just told her when he would arrive, and she couldn't just leave him hanging, so she borrowed some money and traveled to meet him.
The Dominican woman became even more suspicious of her online boyfriend after looking at his plane ticket and seeing that it was one-way. She would later realize that he also didn't have any money whatsoever and that she would actually have to support him, not the other way around. Soto Peguero took the broke sugar daddy to her rented home where she tried to explain to him that raising four kids was hard enough and she couldn't afford to look after him as well, but he just stared at her like he didn't understand a word.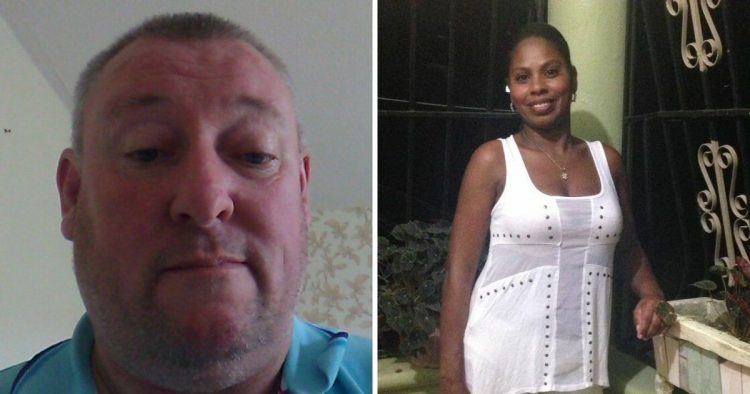 Photo: Facebook
"I have explained it to him a thousand ways. If I had my own house I'd let him stay but I don't," Wilfa told local reporters, after her failed attempt at internet romance went viral.
After over a month of having to provide food and shelter for Glyn, fed-up Wilfa Soto Peguero took to social media to complain about the unwanted guest and to ask for assistance in having him flown back to his own country. She said she didn't have a job, claiming that she was disabled, and that her online Prince Charming and turned out to be a huge burden. Apparently he spent most of his days around the house, playing with the kids and strolling around the neighborhood.
"I'm making this video for many young people, for many women, so that they learn from what happened to me and don't try to find love online," Wilfa said in the video. "That was a mistake I made and won't make again. I've got my heart and I'm not going to refuse him food when he's not giving me any money but I can't look after him."
The video spread like wildfire on social media, and local news stations soon started getting in touch about interviews. Wilfa recalls that, one hand she felt humiliated of being laughed at by everybody, but she also saw it as an opportunity to appeal to authorities for help with getting Glyn Thomas Bailey off her hands. He had been living with her and the kids for over a month, and she was already heavily indebted.
All the attention made the Brit a local celebrity, and he seemed to enjoy every minute of it. People stopped him on the street to have their pictures taken with him, and he even showed up in an amateur rap video about him. He's sin standing in the background smiling, as two young men rap about him and Wilfa.
Recently, Wilfa Soto Peguero accused Glyn of domestic violence and he was taken into custody by police and ordered to undergo a medical evaluation at a hospital in Santo Domingo. A judge also ruled that he should be put on a plane back to Britain after the medical tests. It is unclear whether the complaint of domestic violence was Wilfa's desperate attempt to get Glyn out of her home, or if it was justified by an act of violence. He certainly doesn't look like the violent type, but you never know.
The British embassy in Santo Domingo has agreed to assist Glyn Thomas Bailey and hopefully put him on a plane home, but his Dominican crush says she won't breath a sigh of relief until he finally leaves her country.
Interestingly, after Wilfa and Glyn's failed love story reached western audiences, journalists in his home country did some digging and found that out of his 70 Facebook friends (all female), 25 were from the Dominican Republic. That's pretty strange considering he has no connection to the Caribbean nation, and had actually never traveled abroad before. After uncovering this, journalists contacted the man's parents and learned that Wilfa was just one of at least four Dominican women that Glyn had been wooing.
"There are at least three other women in the Dominican Republic who he has made all sorts of promises to," Glyn's mother, Wendy, told The Sun. Apparently, Wilfa was just the first to accept his visit.
Glyn's parents said that he was without a job, penniless and living in council complex. He didn't even have money for the plane ticket to the Dominican Republic, so he borrowed it from them, saying that he was going to marry a woman from the United States. Although they know of his trouble from the press, the man's parent are none to eager to help.
"We knew something like this would happen but he won't be getting any help from us," 66-year-old Wendy said. "The council have taken his flat from him so he has nowhere to go. So long as he doesn't come here, I don't care. If he turns up at our door I will call the police, I've done it before to him. I know I'm his mother but I wish he'd never been born."
Damn, that's harsh…