They say you can't take material possessions with you to the grave, but a Mexican man decided to prove everyone wrong by asking to be buried with his precious truck.
Because of his drawn-out battle with an incurable disease, Don Adán Arana from Puerto San Carlos, in Mexico's Baja California Sur, couldn't enjoy the pick-up truck that his son had gifted him not too long ago. Sensing that he did not have much time on this Earth, Arana told his family that he wanted to be buried with the vehicle, so he could drive it in the afterlife. Respecting your loved ones' last wishes is a serious matter in Mexico, so Don Adán Arana was laid to rest in his beloved truck.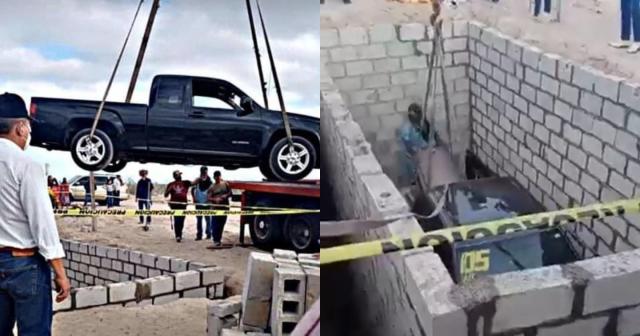 Photos that have since gone viral on Mexican social media show a crane being used to lower the deceased's truck into a brick-lined tomb, and his coffin placed on the bed of the truck.
According to El Universal, the community delegate, Francisco Tovar, the man's family could face a hefty fine, as they did not request any type of authorization for the unusual burial.
As bizarre as it sounds, asking buried with a car is not entirely unheard of. Just last year we wrote about a South African politician who was laid to rest in his beloved Mercedes limousine instead of a regular casket.