After seeing many of their loved ones kidnapped by a ruthless drug cartel, the people of Totolapan, a small town in Mexico's Guerrero state decided it was time to fight fire with fire, so they kidnapped the drug boss' mother.
For years, Totolapan has been under the control of a gang known as "Los Tequillero", led by Raybel Jacobo de Almonte, better known as "El Tequillero". Things had gotten considerably worse for the locals in recent months, as the Tequilleros had become involved in a turf war with other gangs, and started abducting people whom they suspected were supporting their rivals. Sick of living under the constant terror of having their loved ones taken from them, the townsfolk decided to fight back.
On Monday, a few dozen masked men appeared in the streets of Totolapan waving rifles and shotguns, and calling for action against El Tequillero. They identified themselves as a "self-defense" force, as Mexican vigilantes usually call themselves, and demanded the release of kidnapping victims taken by the gang.
"We urgently demand the release of the kidnap victims," one of the masked men said during a recorded statement. "We are a legitimate self-defense force of the people." And to make sure that their demands are taken seriously by the Tequilleros, they let them know that they have a valuable bargaining chip.
"We have your mother here, Mr. Tequilero. I propose an exchange: I'll give you your mother if you give me my husband, but I want him safe and sound," said the wife of Isauro de la Paz Duque, a local construction engineer that was kidnapped by the gang last week, after they had threatened to kill him.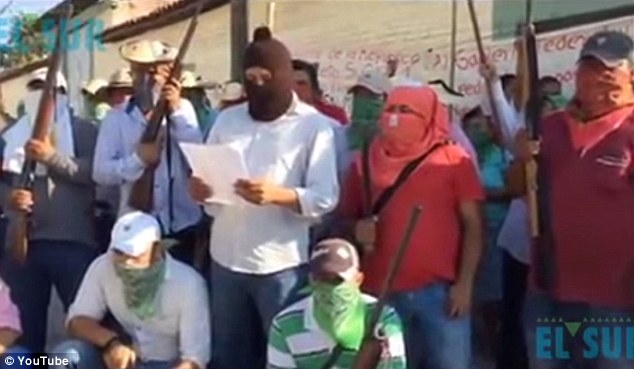 El Tequillero's mother, who is shown sitting on the floor of an empty room with just a ventilation fan beside her, is just one of two dozen people kidnapped by the vigilantes as suspected members of the drug gang.
The Guerrero state Government recently sent 220 soldiers and policemen to Totolapan to diffuse the situation, as well as a negotiation team. Reports state that several hostages have been released by the self-defense force, but El Tequillero's mother remains in their custody. Authorities said that they understand the locals' frustration, but they are going about the situation the wrong way.
"The truth is, they are not really community forces, nor are they police," Governor Hector Astudillo has said. "They are armed groups that unfortunately carry out acts … that generate more violence and confrontation, rather than help."
However, the kidnapping of El Tequillero's mother seems to have had the desired effect, as Mexican news website Debate yesterday reported that the boss agreed to release engineer Isauro de la Paz Duque in exchange for his mother. The swap was overseen by the state Government negotiations team. For the time being, the military and police forces will remain in Totolapan to prevent any retaliations by the Tequilleros.
Located at the foot of the mountains that produce much of Mexico's opium poppy crops, the are around Totolapan is notorious for drug trafficking, killings and extortion. The town itself is reportedly so dangerous that many of its outlying hamlets have been abandoned by their frightened residents.