After noticing that many of the male developers and graphic designers they approached were either condescending or vaguely disrespectful, two female tech entrepreneurs decided to invent a male partner to handle communications. They claim that the difference was "like night and day".
A year ago, Penelope Gazin and Kate Dwyer decided to create an online marketplace for bizarre and dark-humored art, as an alternative to big sites like Etsy, which they believe have too much limitations and excessive censorship. With minimal tech skills and a very limited budget of a few thousand dollars of their own money, getting "Witchsy" off the ground was never going to be easy, but one thing the two ladies didn't expect was to be treated differently simply because of their sex. Some of the people they contacted to work on the site either took a condescending tone with them, like opening an email with "Okay, girls", while others took it even further, like a developer who tried to delete their site because Penelope refused to go on a date with him. But everything changed when a certain "Keith" took over communications.
Photo: Witchsy
"It would take me days to get a response, but Keith could not only get a response and a status update, but could also be asked if he wanted anything else or if there was anything else that Keith needed help with,"  Kate Dwyer told Fast Company. "It was like night and day."
But Keith Mann wasn't a real person, just a pseudonym they invented to beat the blatant sexism they faced. They would regularly use him when emailing potential collaborators and it didn't take long for the two entrepreneurs to notice a serious change in how people responded. The simple involvement of a man seemed to have a large impact on how they perceived Witchsy as a business, and their tone. For example, one developer would always use their first names when conversing with Kate or Penelope, but only used Keith's surname.
Photo: Witchsy
"I think because we're young women, a lot of people looked at what we were doing like, 'What a cute hobby!' or 'That's a cute idea;," Dwyer said.
But instead of getting discouraged by the difference in attitude based solely on sex, Penelope and Kate decided to just accept reality and move forward.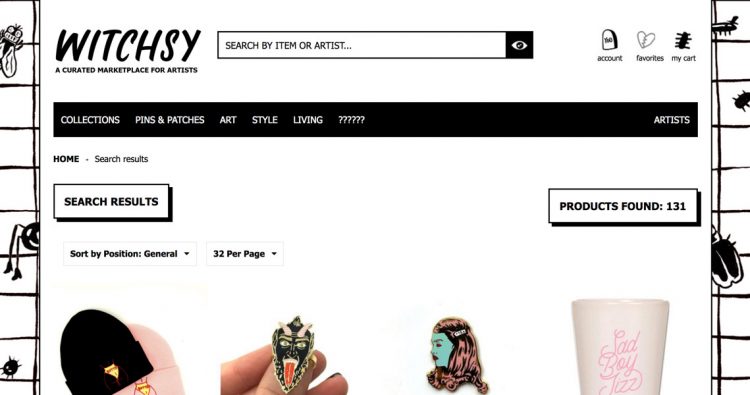 Photo: Witchsy
"I think we could have gotten pretty bent out of shape about that," Kate Dwyer said. "Wow, are people really going to talk to this imaginary man with more respect than us? But we were like, you know what, this is clearly just part of this world that we're in right now. We want this and want to make this happen."