Three Kenyan sisters who happen to be identical triplets are reportedly dating and planning to marry the same man, one Bigman Stevo, who claims that having three partners is no big deal.
Cate, Eve and Mary, three sisters known as "Comrades Triplets" in Kenya, have been making news headlines in their native country over the last couple of weeks, ever since it was first revealed that they are all dating the same man. Cate was the first to notice Stevo, and she later told her two sisters about him. They approached him and asked if he would be willing to date all three of them, and they've been together for a couple of weeks now. It was the Comrades Triplets who devised a dating schedule to keep everyone happy, and Stevo has so far been happy to oblige.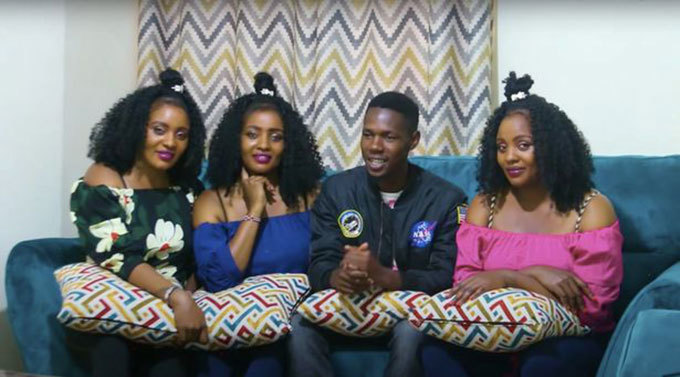 "I used to watch him on YouTube and one day I told my sister Mary about him," Cate told Gotta News. "She admitted to having a crush on him and when we showed him to our sister Eve, we realized she like him too."
Even though all three sisters thought Stevo was good-looking, they actually fell in love with him on separate occasions, as they went on dates and got to know him. The sisters added that there is no jealousy as they have created a timetable that ensures that they all spend the same amount of time with their boyfriend.
"We have planned it so that he takes each one of us on a date, Monday, Tuesday and Wednesday respectively then we have a joint date on a Friday evening," the triplets said. "Our condition is he has to love us equally; he should try his best to love us the equally."
Stevo, who describes himself as a businessman and content creator, told reporters that he had always considered himself polygamous and that dating three women at the same time was no big deal.
"I tend to believe that my love was not meant for one girl and I was born a polygamous person and that everyone knows," the Kenyan man said. "I'm always honest and faithful and my exes had left because I told them that I wanted to add one more. I don't want to cheat, I want to add and coincidentally blessings just came my way when I wanted them."
The triplets revealed that this is the very first time all three are in a relationship with the same man, and that they definitely won't be bringing any new women into their relationship along the way, regardless of what Stevo might have to say on the subject.
Speaking of marriage and plans to have children, the three sisters said that they are taking things slow and that a baby would be a welcome gift regardless of who becomes a mother first. For the time being, though they are still getting to know each other, as Stevo still can't tell them apart half the time.
News of the triplets' relationship comes just a month after we featured the similar story of the Congolese identical triplets who married the same man because they didn't want to become separated.