It's no secret that Donald Trump's most ardent supporters idolize him, but we have yet to hear about any of them worshipping him as a god. Interestingly, that's exactly what an Indian man has been doing for the last three years, and he's not even a Trump supporter.
Bussa Krishna, a 31-year-old farmer from the remote village of Konne, in India's Telangana state, prays to a photo of US President Donald Trump several times a day. He makes offerings of vermilion, turmeric and flowers to the photo and carries it with him wherever he goes, openly declaring his devotion to his unusual deity. Krishna claims that being called mad by family and friends for worshipping Trump the same way as Hindu gods ha only strengthened his resolve, and he now hopes to build a temple dedicated to the US President.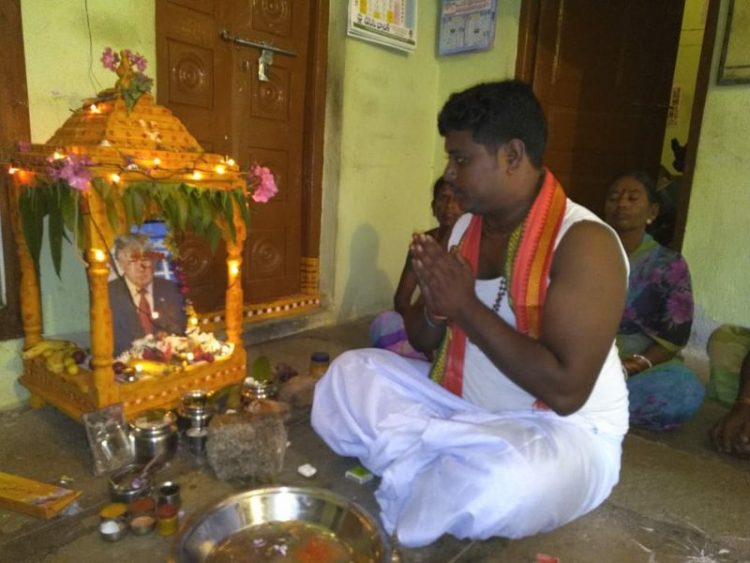 Photo: Bussa Krishna/Facebook
It's not clear exactly when the Indian farmer started worshipping Donald Trump. 9News claims that he's been doing it for three years, ever since he announced his candidacy for the presidency of the United States, while the Hindustan Times reports that he came up with the idea in February of last year, following the killing of a software engineer from Telangana by a US Navy veteran, in an alleged act of hate crime.
"I was very much pained at the incident. I thought the only way the US president and his people could understand the greatness of Indians is to display our love and affection towards them. That is why I started worshipping Trump with a hope that the prayers would reach him one day," Krishna said. "I believe Indians can win over anyone with their spiritual powers. When you cannot take on a mighty person directly, you can win over him with love and worship and that is what I am doing."
So he's basically praying to Trump in the hopes that his spiritual power will somehow reach the US President and convince him of the love and affection that Indians have for him. Sounds like a plan…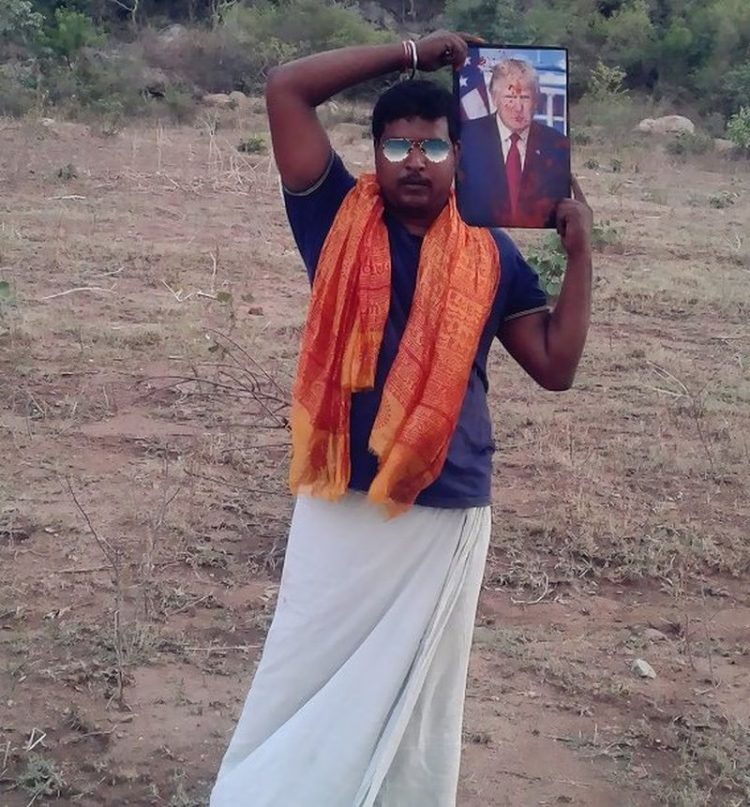 Photo: Bussa Krishna/Facebook
It's no wonder that most people in Bussa Krishna village think he is crazy. His own parents have reportedly gotten so sick of seeing him worshipping a photo of Donald Trump that they left his house and moved in with some relatives. Locals have advised him to see psychologist about his obsession, but he doesn't seem fazed at all.
"I told them 'I don't require any, maybe you should go, because he is my God and I am not bothered about stuff others say'," Krishna told 9News. "My next plan is to build a temple for Trump in three to six months."
One of the man's neighbors told reporters that he carries Trump's photo with him wherever he goes, and despite criticism from the locals, he sometimes yells "Trump is my God, he is in my heart. I like him very much, so I keep worshipping him".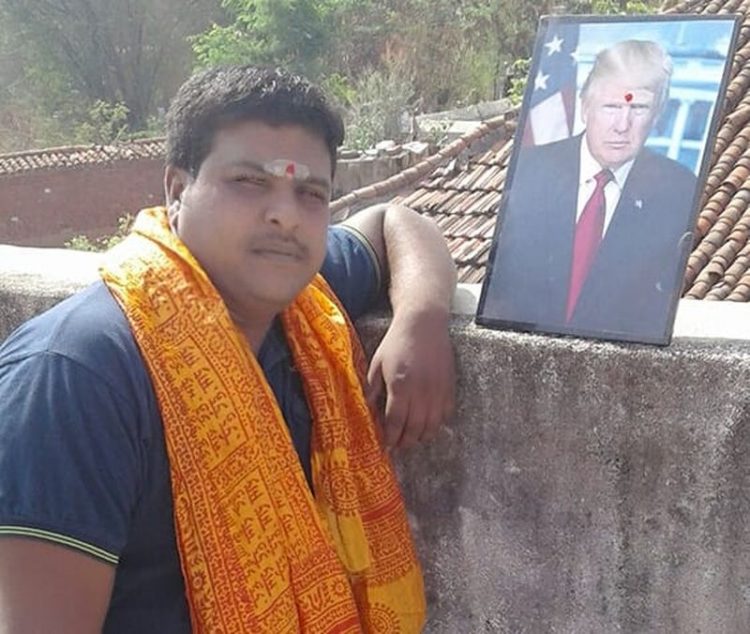 Photo: Bussa Krishna/Facebook
Interestingly, the school drop-out doesn't seem to know too much about President Trump and his policies, but he does know that he once appeared on WWE, so he must be really strong…
"I only know that he is the most strong and invincible leader in the world. What I liked about him was his bold attitude. Since he took part in World Wrestling Federation (WWF) competitions, he must be very powerful," Krishna said.
The Telangana farmer has set up a Facebook page dedicated to his daily Trump worshipping ritual, where posts photos of himself with a photo of the American President. He actually gets a surprising number of positive and encouraging comments, and claims that on June 19, he got a message from his favorite God himself, which read:
"Krish from India is a very close friend of mine; out of the billions and billions of Indians, he is my favourite. He's able to channel dragon energy from worshipping my photos; may be low-energy Jeb Bush should give it a try; I'd be happy send him a pic! See you soon Krish!"
Despite being unable to verify if the message actually came from Trump, Krishna is convinced that it did, and is sure that if the US President ever comes to India, he will surely remember him.
Somehow, I think Trump would love to know that someone is worshipping him like a God among men…
Believe it or not, Donald Trump is pretty popular in India. A couple of years ago, we wrote about the Hindu Sena group, an Indian right-wing group that idolizes the American President.