Laungi Bhuiyan, a pensioner from the Indian state of Bihar, has become known as "Canal Man" after it was revealed that he spent 30 years of his life digging a 3-kilometer-long water canal, all by himself, using hand tools.
The remote village of Kothilawa, in the Lahthua area of Gaya district, had always suffered water shortages, with most of the rainwater falling in the nearby hills flowing into the river, instead of towards the village. This was one of the reason that some residents decided to move away and start anew, but one man decided to stay behind and fix the problem instead of running away from it. 30 years ago, local man Laungi Bhuiyan decided to take matters into his own hands and dig a canal to bring the water from the hills to a pond near his village. No one offered to help, so for three long decades he dug the 4-feet wide and 3-feet deep canal himself, using only whatever hand tools he had available.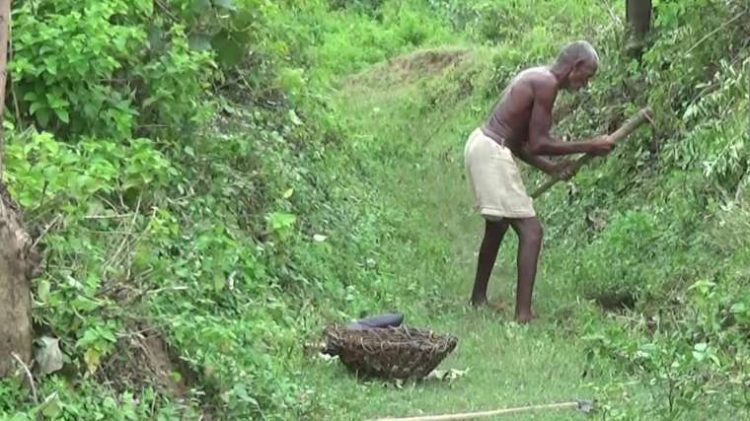 Photo: YouTube screengrab/ANI News Agency
"It took me 30 years to dig this canal which takes the water to a pond in the village," Bhuiyan recently told ANI. "For the last 30 years, I would go to the nearby jungle to tend my cattle and dig out the canal. No one joined me in this endeavor. Villagers are going to cities to earn a livelihood but I decided to stay back."
Located about 80 km away from Gaya district headquarters, Kothilawa is surrounded by dense forests and mountains. During the the rainy season, the water falling from the mountains used to flow straight into a river flowing through the area, but ever since Laungi Bhuiyan completed his 3-km-long canal, it is collected in a pond near the village, allowing locals to raise animals and even irrigate crops without worrying about water shortages.
He has been single-handedly carving out the canal for the last 30 years," local man Patti Manjhi said. "This will benefit a large number of animals and to irrigate the fields as well. He is not doing it for his own benefit but for the entire area."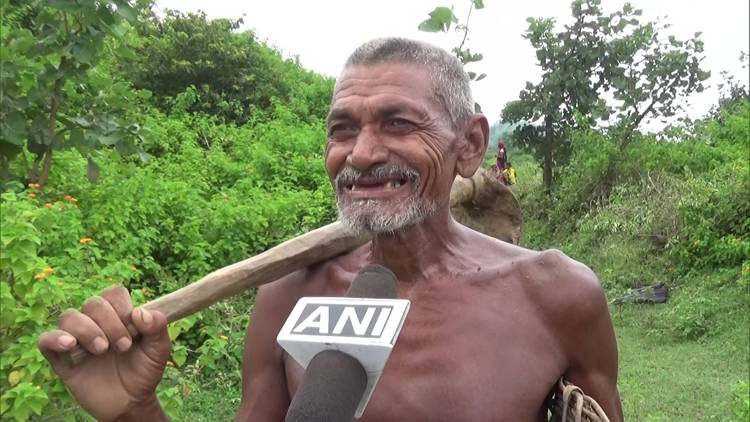 Photo: YouTube screengrab/ANI News Agency
"A lot of people will benefit here. People are now getting to know him because of his work," Ram Vilas Singh, the local teacher, added.
Ever since word of his impressive achievements started spreading on social media, Bhuiyan has been nicknamed "Canal Man", or "Bihar's Second Mountain Man", after the nickname given to Dasrath Manjhi, a landless farmer from the same state who spent two decades chiseling away at a mountain with rudimentary tools, in order to create a road to his village.
Laungi Bhuiyan was in the news recently, after a Twitter user highlighted his incredible story and tagged Indian billionaire Anand Mahindra, asking him if he would support the Kothilawa hero by making a tractor available to him.
"As you know, I had tweeted that I think his canal is as impressive a monument as the Taj or the Pyramids. We at @MahindraRise would consider it an honor to have him use our tractor," the billionaire replied.
While many have taken to social media to praise Laungi Bhuiyan for his perseverance, others used his story to take jabs at Indian authorities, blaming them for never even supporting Bhuiyan. Some said that had the Government done the job it was supposed to, the Kothilawa man shouldn't have toiled for decades, and locals would have benefited from the water canal much sooner. Others went as far as to suggest that his work be recognized post-facto, and that he be provided with compensation under appropriate schemes.
Laungi Bhuiyan's story reminded us of other ordinary people famous for their out-of-the-ordinary achievements, people like Huang Dafa, who chiseled at three mountains for 36 years to bring water to his village, or Jalandhar Nayak, who hand-carved an 8-km-long dirt road so his kids could visit more often.