They say that love brings out the best in people, but there are times when it just makes them commit unspeakable acts, murder included. This was the route taken by two Indian lovers, who hatched a plot worthy of a crime thriller. Swathi, 27, and her lover Rajesh murdered her husband and disposed of his body by throwing it away in a forest. In order to be together and claim the assets of the victim, they took another drastic step: Swathi used acid on Rajesh's face to disfigure him and pass him off as her murdered husband.
The evil deed was comitted on November 27, when the lovers injected Swathi's husband, 32-year-old Sudhakar Reddy of Nagarkurnool, with an anesthetic and then killed him with an iron rod. They later transported the body in a car trunk and dumped it in a Nawabpet forest area in the Mahbubnagar district.
Swathi and Sudhakar
Lakshmi Narayana, deputy superintendent of police in Nagarkurnool, said for the Times of India:
"Sudhakar Reddy was operating a stone-crushing unit. He married Swathi, a trained nurse, and the couple was blessed with two children. Swathi would go to Rajesh for physiotherapy and later they started having an affair. The duo felt Sudhakar was an obstacle in their relationship and decided to eliminate him. They hatched a conspiracy to ensure Rajesh could take the place of Sudhakar and even take control over properties."
After they dumped the body, Swathi disfigured Rajesh's face with acid, then called her relatives and spun a tale about some unidentified people breaking into the house and throwing gasoline on her husband. Rajesh, now posing as Sudhakar, was taken to Apollo Hospital and the victim's brother filed a complaint over the alleged assault. The plan was for Rajesh to get plastic surgery as soon as he recovered, so he could take Sudhakar's place as Swathi's husband and live out their love story unhindered.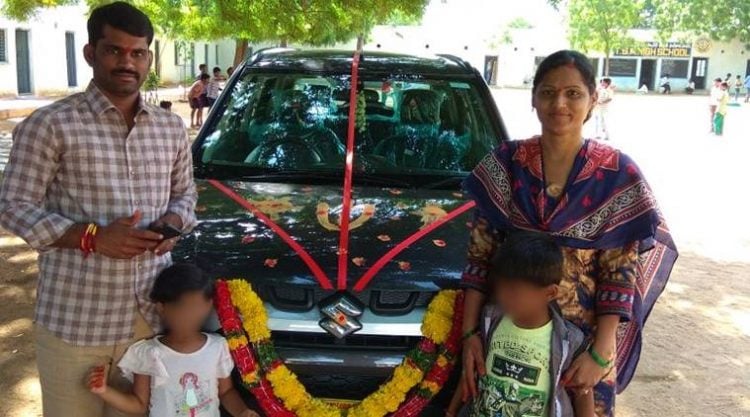 Swathi and Sudhakar
The bizarre plot soon started unraveling as Sudhakar's family grew suspicious. The burns began healing and the injured man dared not speak for fear his voice would give him away. Suspicions were confirmed when he proved unable to identify members of Sudhakar's family.
"They repeatedly asked the injured person (Rajesh) in ICU about details of family members. He didn't speak a word as they would recognise his voice and started writing on the palm. As he was unable to give details, family members came to a conclusion that he was not Sudhakar Reddy. The family went to police and lodged another complaint, stating some other person took the place of Sudhakar Reddy. They also expressed doubts over Swathi," Narayana said.
According to The Insider Car News, Sudhakar's family realized something was fishy when the hospitalized man was served mutton soup but refused it, saying he was a vegetarian. They knew Sudhakar was fond of mutton, so they started asking him all kinds of questions, which he failed to answer.
Rajesh
Swathi was taken to the police station for interrogation and buckled under pressure, confessing the murder she and Rajesh had committed and revealing the location of the her husband's body. She has been arrested and charged with murder, which will happen to Rajesh as well when the hospital discharges him.