A member of a popular South Korean K-pop group has been getting a lot of attention because of his unusual hairstyle – long bangs that completely cover the upper half his face, including his eyes.
Junji (준지) is one of the seven members of OnlyOneOf, an all-male K-pop group founded in 2019. He's easy to identify among his band mates, as he's the one with the face half covered by long, blonde bangs. He's been sporting the bizarre hairstyle since January 2020, and has managed to generate quite a lot of buzz in South Korean entertainment business, because of it. Some people have been speculating that Junji is trying to conceal his looks because he wants fans to like him for more than just looks, others that he is simply not as handsome as the other six members, but the important thing is that they've been talking about him a lot.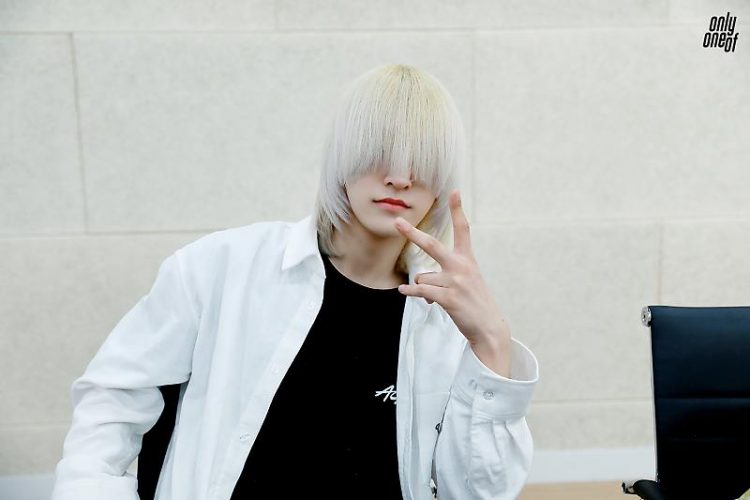 Photo: OnlyOneOf
Physical looks are a big part of South Korean K-pop culture, so it's unusual for members of this type of musical groups to conceal their face the way Junji has been doing for over a year now. But the unusual bet has paid off, as the bizarre look has created a lot of buzz around him and OnlyOneOf.
View this post on Instagram
At the end of last month, Junji and his colleagues were invited on a popular South Korean TV program ("Ask Us Anything Fortune Teller") where the musician explained his mysterious look. Apparently, he came up with the idea in January of 2020 and only planned on keeping his face covered for a couple of weeks, but then everyone started talking about it, so he just went with it.
View this post on Instagram
"I initially didn't like this hair, but since many people recognized me because of it, I'm afraid if I don't do this hair now, they won't recognize me," the OnlyOneOf member said.
View this post on Instagram
An because the attention  his mysterious look got was so addictive, the K-pop idol decided to live with the fact that he could barely see through those bangs hanging over his eyes. During the recent interview, he said that his band mates have to hold his hands when they walk on stage, because he can barely see in front of him, and when they do their dance, he just looks at the floor from behind the bangs.
View this post on Instagram
Looking at the OnlyOneOf Instagram page, it would appear that Junji no longer has his signature bangs over his face, which should please the fans who have been asking him to show his handsome face again.
View this post on Instagram
View this post on Instagram