The marble tomb of a notorious truck hijacker is set to become one of the most famous attractions in the Spanish province of Granada, because of two bronze eccentricities – a life-size statue of the man buried there, and a realistic replica of an Audi Q5, the car he used to carry out his hijackings in.
Antonio "El Tonto" (The Fool), also known as "The Pirate of Trucks", was one of the most successful criminals in the history of Granada, having racked over 60 arrests over his fruitful career. He was mostly known for hijacking trucks and getting away with millions in merchandise, including perfumes and computers, but he had also pioneered legal marijuana trade in the Spanish province, as well as opened a supermarket to sell whatever he stole in. El Tonto died last year, at the age of 46, soon after being arrested for allegedly stealing seven trucks, but he remains in the memories of the people of his home town, Pinos Puente, as well as through some pretty unique tomb decorations.
Photo: Granada Hoy
The burial place of Antonio El Tonto first made news headlines in Spain last year, when a life-size bronze statue of the known truck hijacker was installed there. It depicts the highway pirate sitting on marble steps, but what really drew people's attention was the attention to detail in terms of clothing and accessories. The bronze El Tonto wears a an expensive Monclaire jacket and sneakers made by the same company, sports a 42,000-euro Rolex Yacht-Master watch on his left wrist, and a Versace bracelet plus several gold rings on his right one. On the step, next to the statue,  lie a bronze replica of a Gucci handbag, two smartphones, and a pack of Marlboro cigarettes.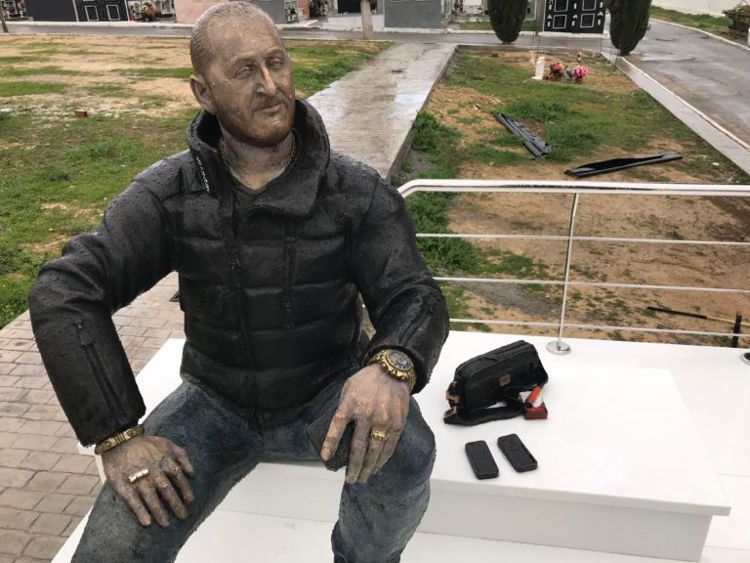 Photo: Noudiari
Recently, the tomb of El Tonto (the less than flattering nickname is engraved in marble) once again drew Spanish media attention, as a missing accessory was recently installed. Now, next to the truck pirate's bronze statue sits a life-size bronze Audi Q5, which is reportedly the car he used to hijack trucks in. Initially, his family opted for a Ferrari California, Antonio's favorite ride, but in the end they decided on the Q5.
Photo: Noudiari
Despite his fruitful criminal career, Antonio El Tonto was a beloved character in Pinos Puente, a town of just over 10,000 inhabitants, as evidenced by the fresh flowers that people constantly leave at his grave. Known in life for his daring truck hijacking, El Tonto is now making headlines for his flamboyant tomb.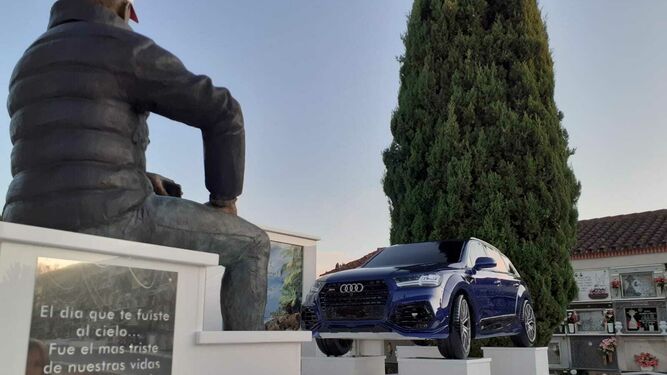 Photo: Noudiari