A Florida man was arrested after a hidden camera caught him injecting a clear liquid under his neighbor's front door, because he was annoyed by the noise they made.
Xuming Li, a former Ph.D. chemistry student at the University of South Florida reportedly used the laboratory at his former school to mix a cocktail of dangerous chemicals, load it up into syringes, and then inject it into the home of his upstairs neighbor through a crack in their front door. A subsequent test showed that the 36-year-old man used a combination of methadone and hydrocodone, two well-known opioid medications. It's unclear what Li hoped to achieve by repeatedly injecting the substances into his neighbor's home, but it's easy to assume that he did not have good intentions. He was arrested after his neighbors, who had become exasperated by the bizarre smell in their home, installed a hidden camera outside their front door.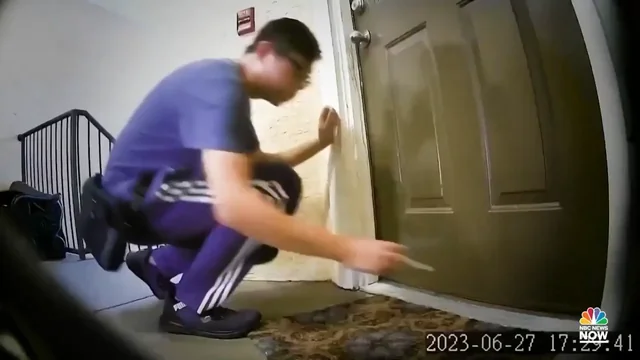 "I installed a hidden camera outside because we were suspecting someone is basically tampering with our place from outside," Umar Abdullah told Fox13. "And then we got our neighbor injecting something through our door."
Ever since Abdullah and his family had moved into their Tampa Bay condominium in 2022, their downstairs neighbor, Xuming Li had constantly been complaining about the noises they made. One day it was his little daughter walking, the next it was the noise their doors made when they closed, or how their toilet seat clanged. He would send angry texts to them, or complain to their face that he was losing sleep because of them.
"My landlord and I did a simulation, and we could hardly find any sound," Abdullah said, adding that he, his wife, and their daughter first smelled something strange in the house back in May. He checked various appliances, replaced the water heater, and even had the fire department check the home but they couldn't find anything.
For a time, the bizarre smell was gone, but it returned in June and the family started experiencing dizziness and nausea. Abdullah said that his daughter's eyes were sometimes full of tears, because of the fumes. Eventually, he started suspecting that someone was tampering with their home from the outside, so he installed a hidden camera outside their front door.
Upon checking the hidden camera one day, Umar Abdullah was shocked to see his upstairs neighbor kneeling down in front of their front door and injecting a clear liquid through a small crack. Further investigations revealed that Xuming Li had repeatedly injected chemicals into their home, putting their lives at risk. They contacted the police and Li was arrested.
"I never expected something like that to happen. I wish no one else would have to go through a situation like this ever in their life," Abdullah said. "If we could not have found that incident on the camera, probably after a few days, we might have been dead."
Xuming Li was arrested on June 27 but was later released on bond. He has been charged with possession of dangerous substances, among other felonies, and is scheduled to appear in court on December 5. The condominium's owners association is also trying to have him and his roommate evicted.