Man vs Fat is a weight-loss phenomenon sweeping the United Kingdom and helping soccer fans lose weight and improve their fitness by getting involved in their favorite sport.
Soccer, or football, as we Europeans call it, is the most popular sport in the world, but nowhere is it more loved than in its birthplace – England. To say people there are crazy about soccer would be an understatement; with over 140 individual leagues, containing more than 480 divisions, and around 7,000 professional clubs, it's safe to say that soccer truly is at home in England. People love to play it, love to watch others playing it, either in stadiums or from the comfort of their own homes, love to talk about it in pubs, it's just a big part of daily life. So I guess it makes sense that soccer be so effective in helping to curb the country's very serious obesity problem.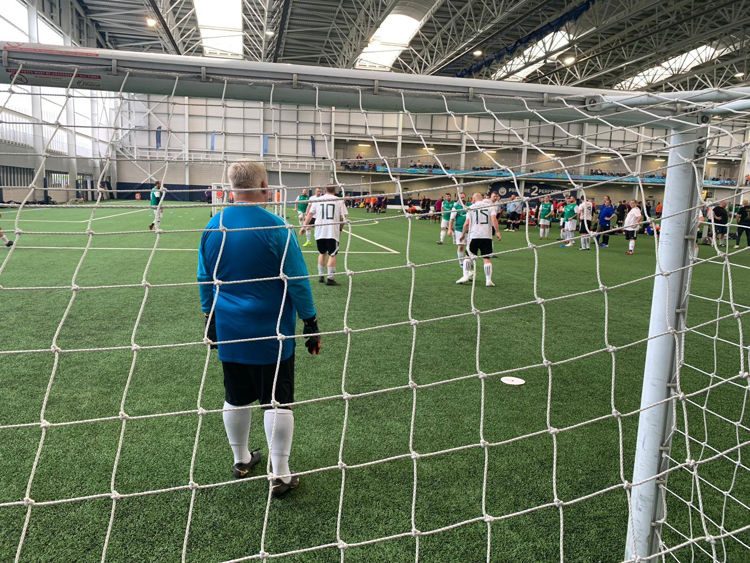 Photo: Man vs Fat/Facebook
Man vs Fat Football started in January 2016, as a scheme with Solihull Council to help local men shed some of their extra pounds. The idea was to create a local football league where men could sign up to either compete in actual football matches, or, if they didn't consider themselves fit enough, just help their team from the sidelines, by losing weight. That's right, Man vs Fat isn't just about scoring goals and winning games, the weight lost by team members during a season counts in the rankings as well, so even non-playing team members can make important contributions.
The concept introduced by Man vs Fat four years ago proved very effective at helping members lose weight, with 95 percent of the people involved in the original league reporting losing some weight at the end of the season, and 62 percent hitting their 5 percent weight loss target. The maximum weight lost was 67lbs, and the maximum body weight percentage was 26 percent. The initial success got other communities interested in the concept, and there are now several Man vs Fat leagues active across the UK.
"The social element of our leagues is hugely important and the camaraderie and the banter that they share, 95 per cent of the people who join our leagues don't know each other before they join," Roger Smith, a member of the Yeovill Man vs Fat league, said. "Within a week of taking part, they're best mates and I've got friends who I started playing with in May 2016 who will be friends for life."
That's a big part of the Man vs Fat phenomenon, the camaraderie between team members, who only play a 30-minute football game per week, but support each other in their weight-loss efforts 24/7. Even those who aren't fit enough to go out on the field for their teams are compelled to shed some of their extra weight so they can one day be in good enough shape to play.
"You're doing it for yourself, primarily, but you end up being motivated by doing it for your team and doing it for the guys around you," Man vs Fat member Richard Hunter told Somerset Live. "We end up supporting each other by a chat group system, by a forum and reading other people's recipe ideas and what they've done that week to get their weight loss. It really does work and it motivates you to want to lose weight and be healthier and break those bad habits."
Each match begins with a weigh-in where teams are rewarded with extra goals depending on how much weight its members have shed the previous week. For example, if two members of the team lose a certain weight, they score a goal, if a member loses weight for three consecutive weeks, they score a goal, and if someone loses 5 or 10 percent of their initial weight, they score a goal.
"The football is the fun element and that's why they keep coming back, but the results often are won and lost in the weighing room," Roger Smith concluded.
People can join Man vs Fat leagues all across the UK, by paying a monthly fee, but some local communities have started subsidising the membership of overweight members because of the confirmed health benefits reported in the last four years.