38-year-old Wesley Wee, from Singapore, was born with cerebral palsy, and has never had any control over most of the muscles in his body. He is stuck in a wheelchair, and is unable to dress or feed himself, so writing a book seems out of the realm of possibility. However, his physical disabilities didn't stop this ambitious man from spending five years typing every letter in his inspiring book, "Finding Happiness Against the Odds", with just the big toe on his right foot.
Growing up, Wesley had to deal no only with the challenges of his crippling condition, but also the abuse of his parents who were unable to deal with the hardships of raising a disabled child, and often took their frustration out on him. His mother would hit him and say things like  "You good for nothing, si geena (dead child in Hokkien), it is better you die," to him, and his father pushed him to do difficult exercises every night, in an attempt to make him walk normally.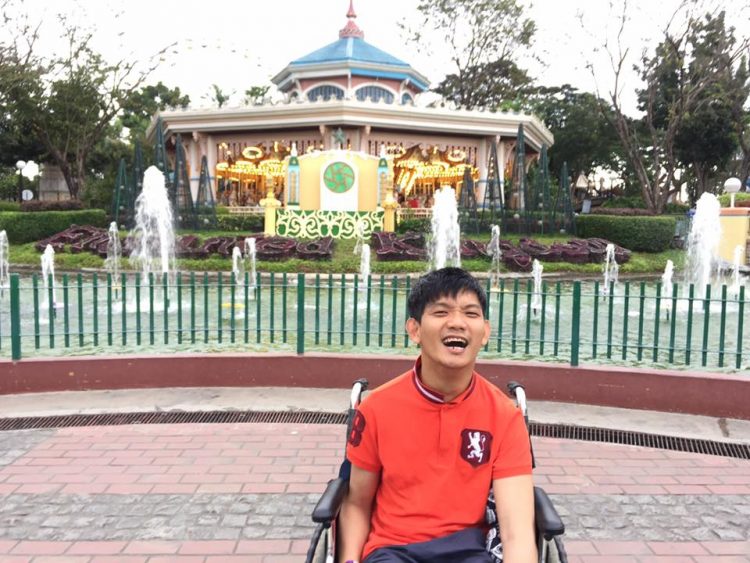 Photo: Wesley Can/Facebook
As a boy, Wesley was forced to use a walking frame to make ten rounds around the living room every night, a task that sometimes proved too difficult to complete. That's when his father would lose his temper, drag him to the bathroom and dunk his head into a bucket full of water. His few happy childhood memories are of his grandmother, who, realizing the constant abuse he was subjected to, took him to live with her and ensured he received an education at the Spastic Children's Association, something that his parents thought would be wasted on him.
Unfortunately, this happy time of his life didn't last long, as circumstances forced Wee to end up with his abusive parents once again. Determined to make him walk like a normal person, they made him undergo a surgery that left him confined in a wheelchair. up to this point, he could still manage to take a few steps on his own, but after the intervention, he lost his ability to walk completely. Seeing that their child had become an even bigger burden, his mother and father subjected him to even worse physical and psychological abuse than before.
Photo: Wesley Can/Facebook
At one point, life became too much to bear for Wesley, and he attempted to take his own life not once but four times. It was only a matter of time before he eventually succeeded, but he claims Jesus gave him the strength to push through, and helped him find his calling – to become an inspiration to those who believe life has nothing left to offer them.
Wesley started supporting himself by selling tissue paper on the streets, and, seven years ago, he found love. He met his wife online, and spent most of what he earned buying phone cards to call her. He eventually went to the Philippines to meet her, and brought her back to Singapore. They got married five years ago.
Photo: Wesley Can/Facebook
Wesley Hee's life took a turn for the better, and having overcome so many obstacles, he wanted to share his experience with others, to let them know that regardless of the circumstances, they should never, ever give up hope. If he could do it, so could anyone else.
The best way to tell his story was through a book, but having to type all the words himself was a virtually impossible task. Once again, he proved nothing is impossible if you really want it, and spent the last five years typing every letter in his book, on a tablet, using only his big right toe. Now, "Finding Happiness Against the Odds" has been published and will officially launch on August 23rd, at the headquarters of Google Singapore.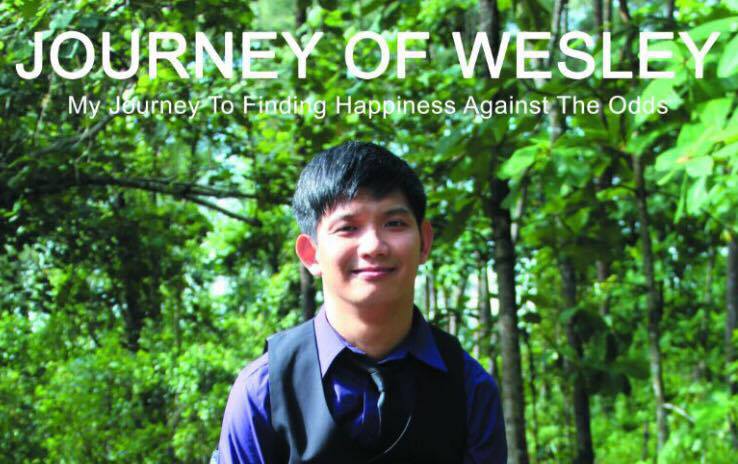 Photo: Wesley Can/Facebook
"I want to tell people what I've been through," Wesley Wee says. "I would like to inspire people's lives, and those who have disabled in their family. Do not give up hope, because if I had given up hope, I wouldn't be here."
Wesley dreams of adopting a child with his wife, and some day opening his own shoe business.
If you want to know both the dark and inspiring details of Wesley's life, or if you just want to support him and his family, you can order his book, "Finding Happiness Against the Odds", here. All proceeds will go towards his daily expenses.