Japan Pom Pom is a unique cheerleading troupe made up of 28 vivacious members whose ages range from 55 to late 80's. These energetic grandmas have been engaging in their glamorous hobby for the last two decades and show no sign of stopping anytime soon.
84-year-old Fumie Tanako is the founder of Japan Pom Pom and an active member of the group. She says that she would not have had the confidence to pick up cheerleading in her youth, but became emboldened by major life changes that occurred during middle age. When she was 53, Fumie decided to travel to Texas to study. It was against her dying mother's wishes, but her children supported her decision. Then, in her early 60's, her relationship with her husband began to fall apart, and ultimately ended. It was around this time that she found her calling in life – cheerleading. Mesmerized by the impressive array of moves performed by professional American cheerleaders, she immediately rounded up five elderly girlfriends and started practicing. Two decades later, their troupe is still going strong.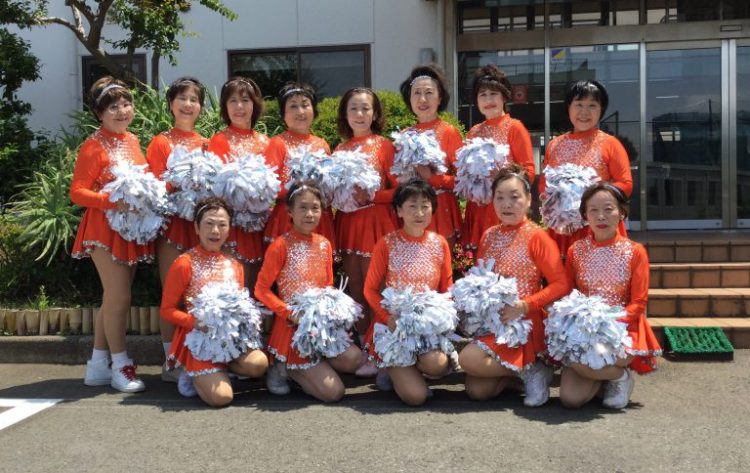 Photo: Amebo
Japan is known for its high life expectancy, with women living for an average of 87 years and men to 80, but the healthy life span average is 10 years lower for both sexes, with many suffering physical and mental ailments in the last years of their lives. But Fumie Tanako and her 27 fellow granny cheerleaders are challenging statistics with their energy and agility. In fact, the 84-year-old credits cheerleading for helping her push back the clock and keeping her in great physical and mental shape. Even though some members of Japan Pom Pom have had to retire due to health problems or to take care of their aging husbands, Fumie has been leading the group since 1996 and has no plans to retire.
The cheerleaders of Japan Pom Pom still get together every week to put on their brightly colored leotards, grab their pom-poms and practice new moves. Even though they try not to overdo the acrobatics to avoid serious injuries, they are very serious about their routine, even watching and analyzing videos of themselves to improve. Given the intense nature of cheerleading and the average age of the troupe members – 70 years old – some girls do retire from time to time, but Fumie says new recruits are easy to find. The only requirement to join the group is a minimum age limit of 55.
This year, Japan Pom Pom celebrated its 20th anniversary by performing as guests at Japan's annual United Spirit Association (USA) Nationals competition, where mostly high school and university teams compete.
The next time you feel you can't do something, or that it's too late for you, just watch a video of these elderly ladies engaging in their favorite hobby. That should give you a new outlook on life.
Sources: ABC News/AFP, Japan Times