A mysterious prankster who has been dressing up as Pennywise the evil clown from the popular "It" films and trying to scare passers-by has been getting a lot of attention in Ukraine, including from prosecutors who think the people behind the stunt deserve to be locked up.
The real-life Pennywise was first spotted on the streets of Mukachevo, in Western Ukraine, on December 9th, when local media published photos of a scary looking clown walking through the streets and hiding behind a bridge, waiting to pop in front of unsuspecting passers-by. Then, a few days later, a video shot at a gas station shows the mysterious clown pretending to pour gas over people's cars after they go inside to pay. Some run for the hills abandoning their vehicles, while other just get behind the wheel and drive away. In another video, the clown opts for the classic popping-out-of-a-trash-can stunt, which doesn't work quite as well as intended, but is apparently enough to get him in trouble with local authorities.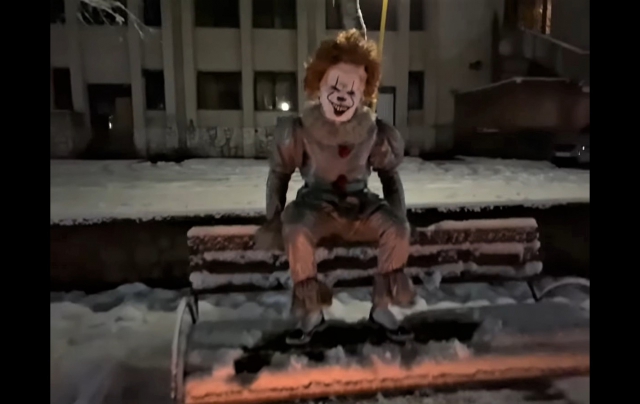 Gazeta.ua reports that the Transcarpathian prosecutor's office has begun criminal proceedings against the mysterious real-life Pennywise and the people behind his "dangerous" stunts. The makers of the now viral videos are suspected of creating and distributing material deemed to promote a cult of violence and cruelty. Therefore, the production was registered under Part 2 of Art. 300 of the Criminal Code of Ukraine.
According to Ukrainian law, the people involved in the Mukachevo Pennywise project risk a fine equal to between 100 and 300 tax-free minimum incomes, restriction of liberty for up to 5 years or imprisonment for the same period. Despite getting in trouble with the law, the mysterious clown has already announce that he doesn't plan on stopping anytime soon.
"Our videos are not violence propaganda. Many claim that our stunts can give people heart attacks, but let me explain: we are not joking with old people and children. The prosecutor's office is also after us, all I can say is to simply wish them good luck. You'll never stop us. It's just the beginning. Wait for a new video," the clown posted on Ukrainian social media.