In case you didn't know, shooting guns goes really well with a hearty meal and cold drink. At least that's what the owners of Modern Round, an innovative restaurant in Arizona seem to think, and judging by the success of their venue, they're definitely on to something.
Before you go all ballistic, I should mention that the guns provided by Modern Round are not real firearms, but realistic laser replicas designed to feel like the real thing. Instead of gun range targets, patrons must shoot at virtual targets on a 16-foot-wide screen, and can choose from a variety of options, from zombie-themed games to live-action police and military scenarios. To make the experience feel as realistic as possible, the replicas are molded into the size, shape and weight of actual firearms, and some of the weapons even have a CO2 system that "provides realistic recoil and blowback." So if you can't stop thinking about guns even at the dinner table, this is probably the place for you.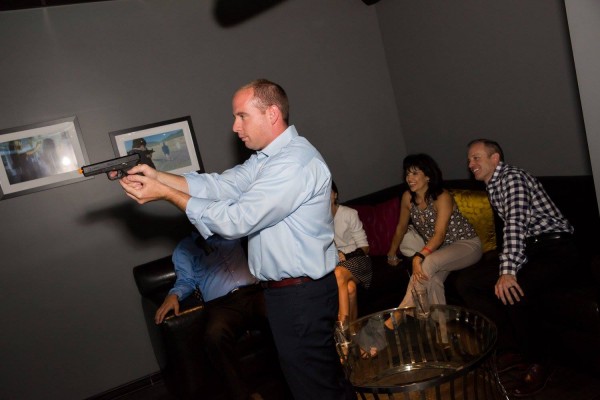 Photo: Modern Round/Facebook
Modern Round opened in Peoria, Arizona, last June, and is the brainchild of Mitchell Saltz, a former Chairman and Chief Executive Officer of gun manufacturer Smith & Wesson. Also involved in the project is Barry Monheit, a current board member at Smith & Wesson. The company apparently has big plans for this controversial concept, hoping to open 15 to 20 locations across the United States in the next five years.
"One of the great things about Arizona is that it's very gun-friendly," Bill Scheidhauer, Modern Round president, told AZ Family. "You don't have people that have a big resistance to people owning guns."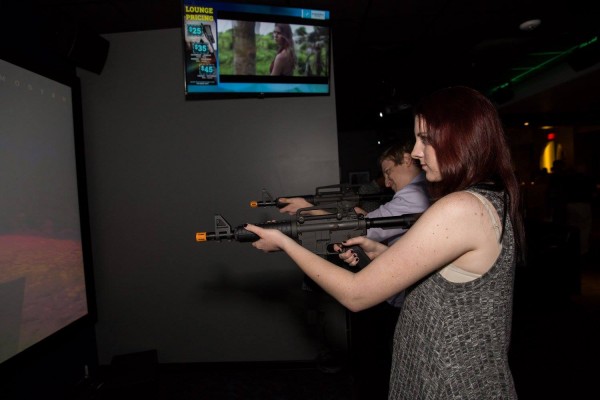 Photo: Modern Round/Facebook
"We've designed some of our content for entry-level people that have never touched a gun before," Scheidhauer added. "Then we also have much more complex programs where you get into shoot-don't-shoot scenarios."
The shooting-themed restaurant has an annual membership fee of $5, which gives members the right to reserve a table by the hour, and the company says that it already has over 23,000 members. However, this membership fee doesn't actually cover the use of the lounge, for which customers will need to pay an extra $25 – $45 per hour, depending on the complexity of your chosen scenario. For example, video games like Duck Hunter or Saloon Shootout are cheaper, while military training simulations are pricier.
Photo: Modern Round/Facebook
The whole place allegedly has a James Bond film feel to it, with the main door shaped as a keyhole and hostesses dressed in skin tight body-con who handcuff themselves to metallic attaché cases containing the weapons you'll be using during your stay. There is also a professional shooting instructor roaming around and letting shooters know what they're doing wrong and how to improve their aiming.
Modern Round is family friendly, allowing kids as young as 12 to use the virtual shooting lounge, as long as they are accompanied by an adult and take a 20-minute gun safety course. Basically, to teach them the respect they need to make sure this could, in a live fire situation, be a real weapon," Scheidhauer said.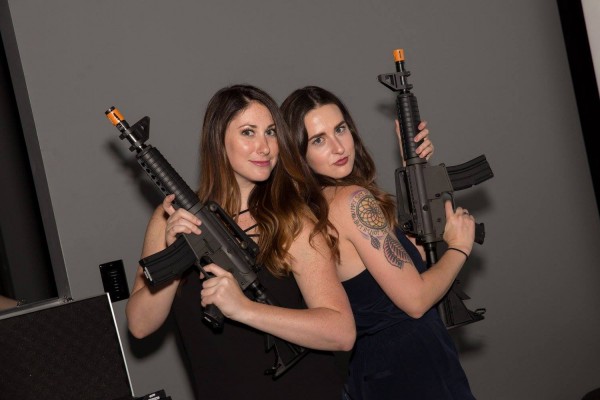 Photo: Modern Round/Facebook
The Modern Round president claims that the restaurant gives people the chance to get used to guns, in case they ever decide to buy themselves a real one. "We're giving them the opportunity to go in, feel comfortable about what's going on, so if they do choose to own one, they have a comfort level with it instead of letting it sit on the shelf and being intimidated by it," he said.