Cauzinho Neto, a muscular 12-year-old boy from Brazil, has become famous both for his impressive physique and his grueling training regimen, which apparently puts most adults to shame.
Carlos Augusto Pitanga Neto, aka 'Cauzinho', only started hitting the gym 2 years ago, under the watchful eye of his father, himself a fitness enthusiast, but he is already seen as a CrossFit prodigy able to deadlift more than twice his own body weight and do 700 ab crunches a day. Most 12-year-olds struggle to get out of bed for school on weekdays, but Cauzinho gets up at 5:30 am every day for a 5km (3.1-mile) run and a few dozen situps. After breakfast, he goes to school, and after finishing his homework he puts in two and a half hours of work in the gym, including deadlifts, squats, bench presses, and bicep curls.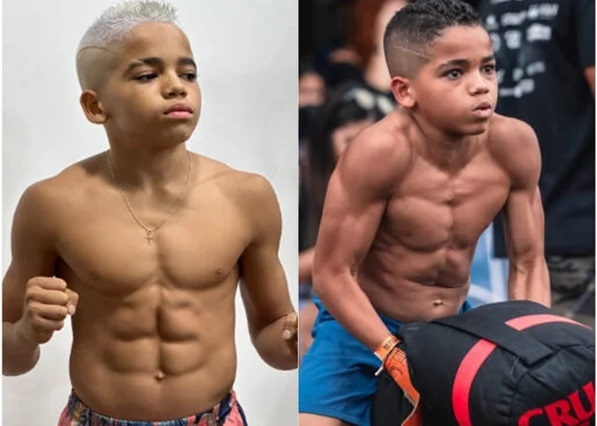 Photo: Cauzinho/Instagram
"He used to be crazy about football before, but then he just wanted to know about CrossFit," Cauzinho's father recalled about his son's first day in the gym. "We agreed that he would train during the end of the year holidays until the beginning of the next school year. But with 15 days of training, with classes adapted to his age and physical conditioning, Cauzinho was already able to easily execute movements that students who had been training for months couldn't even do."
It didn't take long for young Carlos' trainer to notice that there was something special about him, and his parents decided to focus on his athletic career, investing in a full-blown team for him, which includes a coach, doctor, physiotherapist and nutritionist. Their bet is starting to pay off, as Cauzinho is being hailed as the future of Brazilian CrossFit and he already has hundreds of thousands of followers on social media.
View this post on Instagram
Photos of the 12-year-old boy's chiseled abs and videos of his grueling training routine recently went viral in South America and were eventually picked up by Western news media outlets as well. He is being hailed as a weightlifting prodigy, but there are also many who fear that the extreme training regimen could have dire consequences on his health.
"Way too much weight for a kid that is still growing," one person wrote about Cauzinho's deadlift weight. "Kids have bendy bones and putting that kind of weight on his joints are going to do damage…!!"
View this post on Instagram
"Poor kid, looks like he's being used as a "mini me" for his dad and he's missing his childhood," someone else commented. "What damage is happening to his growing body will probably emerge when he's older."
So far, the boy's family has dismissed accusations, claiming that Cauzinho has a team of specialists behind him who calibrate his training to his age in order to prevent injuries, and adding that he is only using dietary supplements like creatine and omega-3, and not growth hormones, like some alleged on social media.
View this post on Instagram
Cauzinho's parents have been monitoring his development, and claim that he has been growing normally. He was 1.34 meters tall when he started, now he is 1.47m. He weighed 33 kg when he started training, now he weighs 38 kg, and he reportedly never suffered an injury in the gym.
Cauzinho Neto is just the latest child fitness enthusiast to spark controversy online. A few years back, 10-year-old gymnast Lyza Brooks Mosier stunned the internet with her chiseled abs, and Vietnam's Nguyen Hoang Nam did the same with his muscular physique.