Adam Crapser was just three years old when he was flown from South Korea to be adopted by a U.S. family, but because they never bothered to apply for his naturalization, he is to be deported back to his native country 37 years later.
Adam was born Shin Song Hyuk, to a mother who abandoned him and his older sister when he was three years old. They ended up in an orphanage outside Seoul, and five months later they were flown to the United States to be adopted by an American family. Their adoptive parents fought often and punished the children viciously – Crapser remembers being whipped and forced to sit in a dark basement. But six years later, they decided they didn't want the Korean kids anymore, so Child Services split up the siblings and put them in various foster homes. Adam ended up with a family in Oregon, which turned out to be even worse than the first one.
Thomas and Dolly Crapser, always had their house full of foster and adopted children, sometimes as many as ten at a time. They also subjected their kids to gruesome punishments, like slamming their heads against door frames, burning them, duct-taping their mouths to shut them up. Adam remembers Thomas once broke his nose just because he couldn't find his missing car keys. They were eventually charged with dozens of counts of child abuse, including rape, sexual abuse and criminal mistreatment, and in 1992, they were convicted on several counts of criminal mistreatment and assault. However, Thomas served only 90 days in prison, and Dolly got three years probation.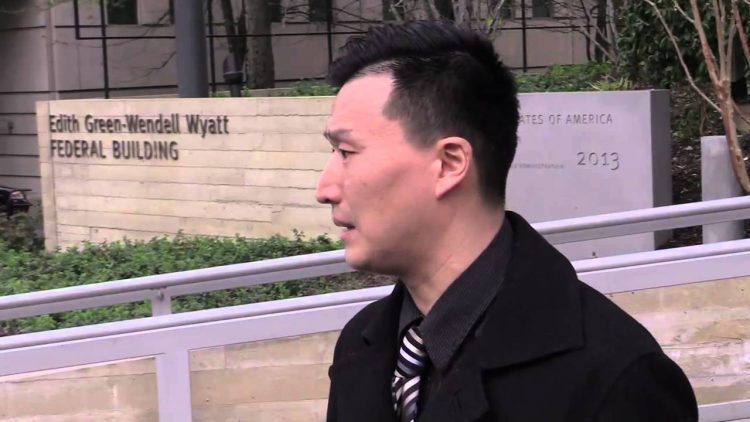 Photo: video screengrab
At age 16, Adam Crapser was kicked out of the house after an argument with his adoptive mother, moved into a homeless shelter, then stayed on friends' couches and, finally, in his car. Anything was better than the hell he had called home for so many years, but the young man would soon find himself in trouble again. He was caught trying to sneak back into the Crapser' house to retrieve the only things that tied him to his past life in Korea – a pair of rubber shoes and an old Korean bible. He pleaded guilty to burglary and ended up spending 25 months in jail.
Soon after being released, he was found guilty of unlawful firearm possession, which was followed by a couple of misdemeanors and an assault conviction after a fight with a roommate. Two years ago, he violated a protection order taken out against him by an ex-girlfriend with whom he had a child, by trying to telephone his son.
Crapser admits he has done a lot of things he is not proud of, but he has been trying to turn his life around. Since his last trouble with the law, he married, became a full time dad, and started looking for a stable job. And here's where things started getting really tricky. The problem with securing long-term employment was that he wasn't a legal citizen of the United States. Neither his first family, nor the Crapser had bothered to file for citizenship on his behalf, so after spending over three decades on U.S. soil he was still an illegal immigrant.

But he didn't give up, and after years of fighting, he finally got his adoption papers from Thomas Crapser and filed for a green card. That triggered a background investigation by the Department of Homeland Security, which revealed his criminal record, and, according to U.S. law, made him subject to deportation.
In February of this year, officers of the U.S. Immigration and Customs Enforcement knocked on the door of Adam's apartment in Vancouver, Washington. They informed him that the agency was opening deportation proceedings to send him back to South Korea, a country he hadn't been to for 37 years and whose language and culture he knew almost nothing about.
Adam Crapser spent the last eight months in detention at the Northwest Tacoma Detention Center, separated from his family including three children, hoping that a judge would grant him a discretionary form of relief called 'cancellation of removal,' which would have allowed him to stay in the United States, but on October 24, 2016, Immigration Judge John C. O'Dell decided he didn't deserve any clemency and ruled to have him deported to South Korea. Adam was so desperate to get out of detention that he waived his right to an appeal and accepted to be sent "back" to a country he considers foreign.
"I was told to be American," he told the New York Times. "And I tried to fit in. I learned every piece of slang. I studied everything I could about American history. I was told to stop crying about my mom, my sister, Korea. I was told to be happy because I was an American." Only it turns out that due to the negligence of others, he wasn't, and after spending virtually his entire life on U.S. soil, America now just wants to get rid of him.
Sadly, while Adam Crapser's bizarre and tragic story has garnered the most media attention, it is not the only one. Nobody knows exactly how many international adoptees have the exact same problem as Adam, because many of them don't know themselves until they apply for a loan or try to register as voters, but records show at least three dozen other international adoptees have also faced deportation charges or have been deported.
Congress did try to address the problem in 2000 by passing the Child Citizenship Act, which granted automatic citizenship to children adopted by U.S. citizens, but it only applied to children under the age of 18 at the time it went into effect, leaving people like Adam vulnerable. Adoptee rights organizations have been appealing to Congress to pass further legislation for years, but so far their pleas have fallen on deaf years.
"While I am disappointed in the judge's ruling and worried about my family's future, I hope that what has happened to me will further demonstrate the importance of passing the Adoptee Citizenship Act," Adam Crapser said after hearing his verdict. He will be deported as soon as Immigration makes the necessary arrangements to have him flown to South Korea.
Sources: The New York Times, NBC News, CBS News