Balakrishnan Palayi, an Indian man from Kasaragod, claims to have eaten nothing but coconut for the last 28 years in order to treat his gastroesophageal reflux disease (GERD).
Imagine eating only one thing for over two decades. As a foodie with access to so many delicious treats, the mere thought of restricting one's diet to a single food for a month, let alone 28 years, sounds almost impossible, but one Indian man claims that it has kept him healthy and fit. Balakrishnan Palayi, a man from Chandera in Kasaragod, was diagnosed with gastroesophageal reflux disease (GERD), a condition that caused him to lose all his strength to the point where he could hardly move around. As part of his treatment, he started eating coconut, and he felt so much better that he soon decided it was the only thing he was going to eat moving forward.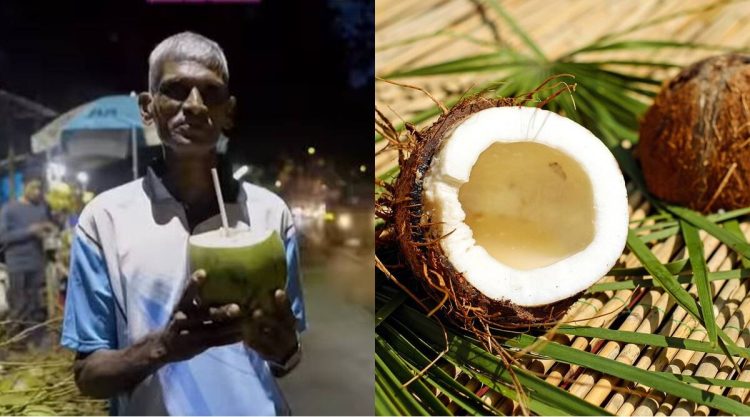 "Coconut has minerals, like calcium, magnesium, sodium, and potassium. This helped him regain his strength and now he is fit and fine. And, he is on a strict coconut-only diet," Vlogger and influencer Shenaz said during an interview with Balakrishnan.
In his youth, Mr. Balakrishnan was a football player in the local club. At the age of 35, doctors diagnosed him with gastroesophageal reflux disease. Every time he ate, the food got pushed back from his stomach into his esophagus and he vomited. He tried multiple diets, but coconut and coconut water were the only things that really made him feel better, so he's stuck to them for 28 years.
"I eat coconuts every day. My family also switched to growing coconuts. I have lived like this for the past 24 years," Mr. Balakrishnan said.
At age 64, Balakrishnan Palayi is much healthier than most people his age. He works on the family farm, swims and exercises every day, and has no serious health problems.
Balakrishnan's coconut diet was originally reported in 2019, in a New Indian Express article, but his name and unusual diet have been making the rounds online ever since. Despite his success story, Dr. Tushar Tayal said that his case is unique and that he doesn't recommend anyone try the coconut diet.