Indian doctors recently reported the curious case of a young woman who underwent a double hand transplant almost three years ago and whose hands have changed color to match her skin tone.
21-year-old Shreya Siddanagowder lost both her hands in a freak road accident in 2016, when travelling from her hometown in Pune to her college in Karnataka. Doctors had no choice but to amputate both her hand and forearms, and she needed about a year to recover. As soon as she did, she visited the Amrita Institute to register for a double hand transplant, and doctors there miraculously managed to find a donor for her on that same day, August 9, 2017. There were almost 200 other people on the waiting list, some from foreign countries like Afghanistan or Bangladesh, but she was lucky enough to be compatible with the donor. Doctors called her at the hotel after her visit, and the transplant was carried out that same day.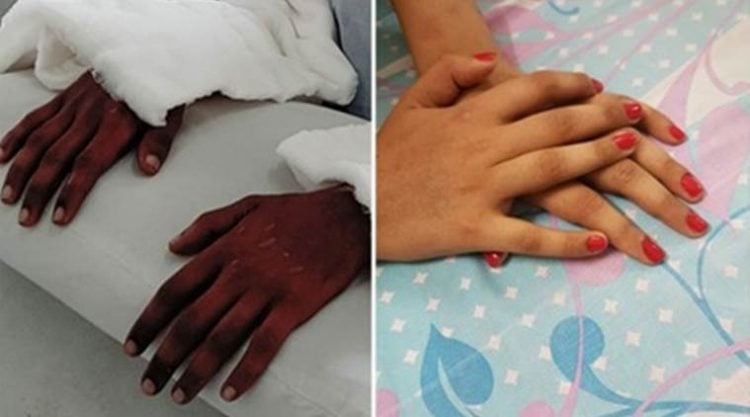 Photos: Arul Horizon/Indian Express
Shreya's operation lasted 13 hours and involved 20 surgeons and an anesthesia team of 16. They first attached the bones, then the arteries, veins and muscle tendons, before finally stitching the skin on the donor's hands to that of Shreya's arms. The procedure was a success, but it was only the beginning of the young woman's journey to a normal life. She spent half a year in Kochi undergoing intensive physiotherapy and getting her body acquainted with the new limbs.
"The hand felt heavy, it was bulky initially," the 21-year-old woman recently told the Indian Express newspaper.  Peripheral nerves took time to develop, and sensation in her new hands grew by 1-2 millimeters every day. But it didn't take doctors and Shreya's family members long to notice some interesting changes in the girl's new hands.
Shreya's hands came from a male college student known only as Sachin, who had been declared brain dead following a motorcycle accident. Hand transplants are rare in India, because many families are reluctant to donate limbs, fearing disfigurement of their loved ones' bodies, even though they are fitted with prosthesis. However, Sachin's parents agreed to help others live and enjoy better lives by donating both his hands and other organs.
One of the first noticeable changes to the larger male hands that Shreya received was a reduction in weight as the extra fat slowly melted away to match her lean arms. In the last four months, the woman's mother also noticed that her fingers had become longer and leaner.
"I see her hand every day. The fingers have become like a woman's, the wrist is smaller. These are remarkable changes," Shreya's mother said.
But the most remarkable change was that of hand coloration. Photos taken after the transplant show hands of a much darker tone than Shreya's, but as time passed they became lighter to match her own skin tone. And all doctors can do is speculate about the reason.
"A hand transplant is rare, and such color transformation is rarer. We cannot comment until proper research is conducted," Dr Uday Khopkar, head of dermatology in KEM Hospital, Mumbai, said.
"This is our first case of male-to-female hand transplant. We can only guess that female hormones have led to the change but assessing the exact cause is difficult," Dr Subramania Iyer, head of plastic and reconstructive surgery at Amrita Institute, told Indian Express.
But what really matters is that Shreya Siddanagowder is getting more comfortable with the transplanted hands every day. Although one of the three nerves and her finger muscles are yet to function perfectly, she has made huge progress. Apart from simply having two hands, which makes her feel socially normal, Shreya is able to once again do everyday things like she did before her accident. For example, last semester she was able to write her exams at Fergusson College, in Pune by hand.