Every year, athletic youths in Wisconsin's Woworth County try out for a unique summer job – mail jumping. They need to prove that they can jump off of a moving boat onto a private dock, deliver the mail and then jump back on the boat before it has passed by.
The residents of Lake Geneva have been getting mail delivered by boat since before roads were built in the area, so the practice has become somewhat of a local tradition, one that attracts loads of tourists to the area. In fact, during the summer months, the mail boat can take approximately 160 tourists along on mail delivery runs and operates at full capacity almost every day. Watching and recording the jumping mailmen deliver the mail to the around 60 homes on Lake Geneva is something that many will gladly pay to be able to do.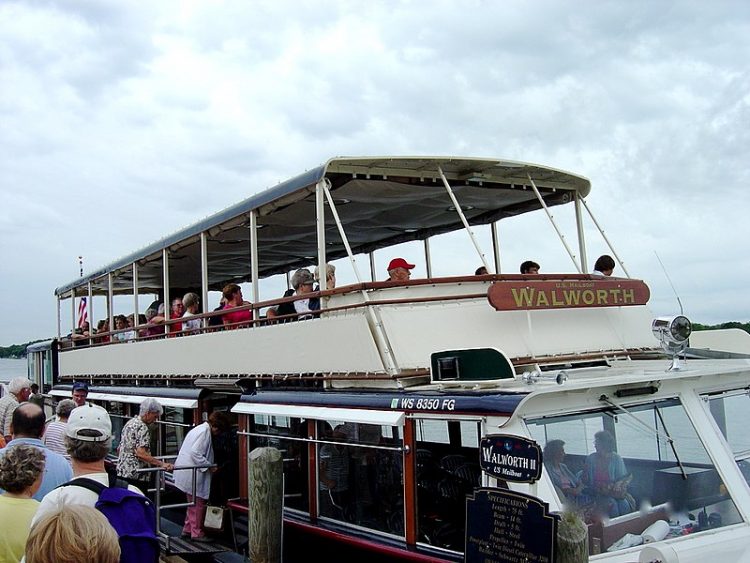 Photo: Anna Harris/Flickr
The United States Postal Service hires six jumping mailmen every summer, and in order to select the very best, it holds yearly tryouts on Lake Geneva. Candidates must prove that they are athletic enough to jump from the mail boat moving at a speed of 5 mph onto the mail recipient's wooden dock, deliver their mail into the mailbox, and then jump back on the boat before it passes by.
According to Wikipedia, a typical Lake Geneva postmen will miss the return jump onto the mail boat at least once during their career, which means they have to be fished out of the water and work the rest of the day wet. Each postman jumps between 45 to 60 times a day, and some can fall in the water several times a day.
"The mailbox, it's like 30 feet away from the boat, and then the mailbox is facing toward shore, so it's really hard to do that exchange and make sure you get back on the boat, so you have to be going fast," one jumping mailman told WISN-Channel 12 in Milwaukee.
For the youths that try out to be jumping postmen, mail jumping is just a really cool summer job, but for the people of Lake Geneva, it's a way to preserve over a century of history.
via Atlas Obscura