So, you're wearing a pair of fly Yeezy sneakers that you paid over $350 for, when it suddenly starts to rain, what do you do? You can take shelter and wait for the rain to stop, which still leaves you at risk of stepping in a puddle or mud, or you can just put on a pair of plastic bags for protection. Neither of those solutions is very elegant, which is why someone created Dry Steppers, a pair of raincoats for your feet.
Dry Steppers are high-quality plastic sheaths designed for sneaker heads who don't mind paying $20 to keep their cool footwear looking fresh and pristine in any weather. They are both rain and snow-resistant and can also protect your expensive sneakers from gravel and dust. They are basically an upgraded version of the old plastic shopping bag trick, where people will tie bags around their feet to protect their shoes. They are made from tear-resistant plastic, feature non-slip rubber soles, as well as an adjustable draw-string and zipper system that insulates the shoe area perfectly. You can even get them printed with a variety of popular sneaker models, like Yeezy 350 V2's, a Yeezy 750's, or Jordan Air 11's, to show off what you have on underneath.
Dry Steppers are the brainchild of Brooklyn-based sneaker designer Rich Franklin, a veteran of sneaker customization, with names like Beyonce and Jay Z on his client list. He apparently got sick of seeing people walking in the rain with shopping bags around their feet, and decided to come up with a better alternative.
"Everyone's always in the situation where we look so silly kind of tiptoeing around in plastic bags. So I was like 'let me legitimize this,' let me make it kinda cool, or make it look acceptable to wear something," Franklin told Style Insider. And that's how Dry Steppers were born.
If you're not in the sneaker game, Dry Steppers probably don't appeal to you, but I've also seen comments from people who say they would cough up $20 for a pair just to keep their feet dry on a rainy day.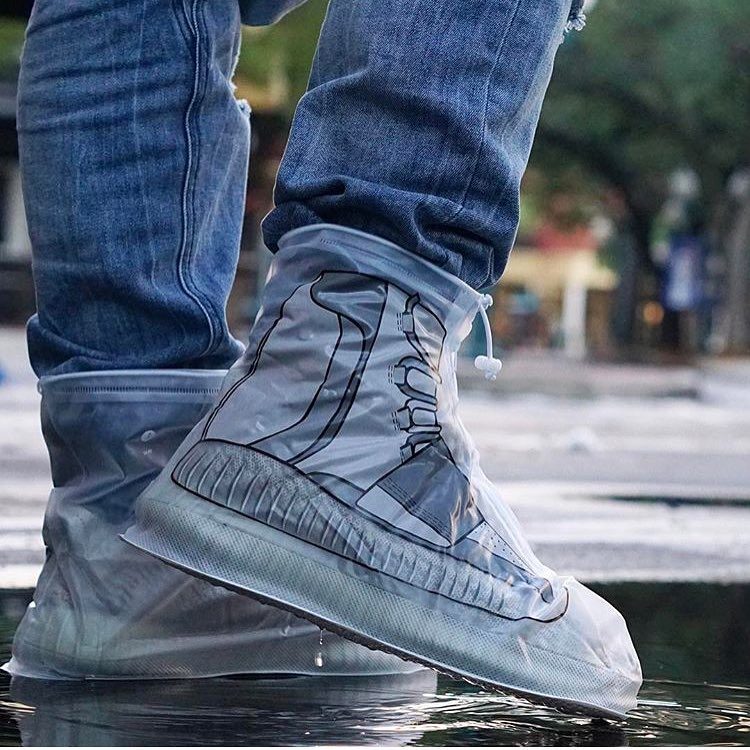 Photos: Dry Steppers/Facebook