I don't normally think of food when looking at flowers, but these lovely 'Ice Cream Tulips' really get me thinking about a nice cold treat to cool me off on a hot summer day.
If you're a flower enthusiast, you probably already know about the ice cream tulip variety, but for most people they are still somewhat of a novelty, especially just before their petals open, when they truly look like an ice-cream cone good enough to eat, or even as a whipped cream-topped treat. They are a relatively new tulip variety, and even though bulbs seem to be widely available for purchase online, they are rather expensive, so you probably won't see them sold at most flower markets too often. Still, if you're trying to make your garden stand out, or just make your neighbors constantly crave ice cream, they are worth the investment.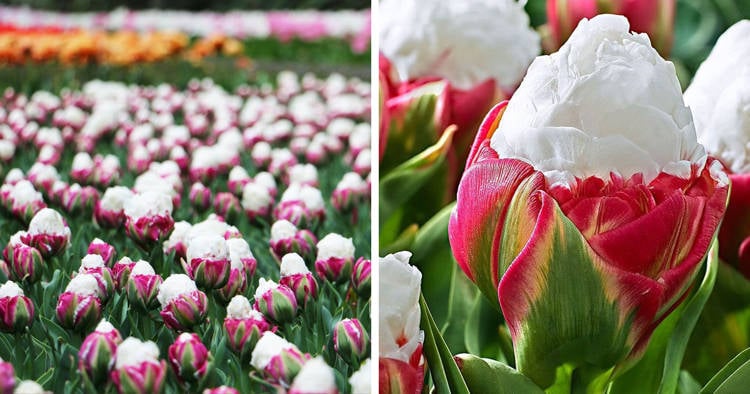 Photos: Instagram
Tulipa Ice Cream bulbs are rather large in size compared to most other tulip bulbs, measuring up to 4″ in diameter, and the flowers themselves grow to 25cm tall, on average. The flowers appear to be pink at first, but then the white center bursts open and the flower takes its iconic ice cream shape.
View this post on Instagram
Ice cream flowers are double-petaled, numbering at least 12 petals, as opposed to the 6 of regular tulips. While both the pink and white petals can open, most often than not, the white middle doesn't open entirely, maintaining that coveted ice cream look.
View this post on Instagram
The exotic-looking ice cream tulips usually bloom in late April or early May. If you're lucky enough to find some bulbs for sale that you can inspect before buying, growers recommend getting the biggest ones for the biggest flowers.
View this post on Instagram
View this post on Instagram
View this post on Instagram
View this post on Instagram
View this post on Instagram
View this post on Instagram
For more amazing flowers you've probably never seen before, check out the mesmerizing Night Sky Petunias and the eerily translucent Skeleton Flowers.