The internet is going crazy over these incredibly beautiful purple flowers that seem covered in bright white stars. They are called Nigh Sky Petunias, or Galaxy Flowers and they are indeed stunning. I could spend hours just staring at them and not get bored.
Petunias, in general, are not the most exciting flowers to look at, but German breeder Selecta One managed to change that a few years ago, when it created NightSky®, a special type of petunia that actually resembles a trumpet-shaped galaxy full of bright stars of all shapes and sizes. It has won numerous awards in plant and gardening competitions, and for good reason. I mean, just look at it!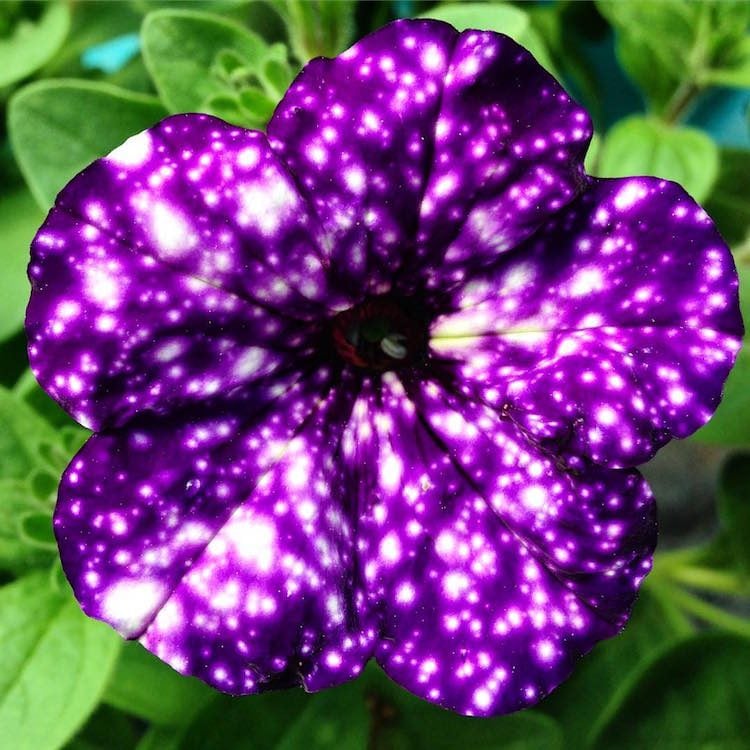 Photo: sylvia.lund/Instagram
Each Night Sky petunia is unique, as the density and size of the white marks vary on factors like temperature and light. Depending on these conditions, it's possible to end up with completely purple or white flowers, and Selecta One makes it perfectly clear that "due to the varying color pattern of Night Sky, we do not warrant Night Sky to flower in a consistent color or pattern and no claims will be accepted."
According to Selecta One, temperature is the most important factor to consider when growing Night Sky petunias. Warm days and warm nights make the flowers predominantly purple, or, in extreme cases, completely purple, while cooler days and nights bring out the whiteness in the petals. So, in order to strike a balance between the two, warm days and cool nights are the perfect combination. However, some growers claim that the PH of the soil also influences the patterns on the flowers.
You'd think that the seeds of a flower that looks like a miniature galaxy would be rare or at least very expensive, but that's not the case. Amazon sells Night Sky Petunia seeds for just $13.55.
For more amazing flowers, you may want to check out the snapdragon, a vibrantly-colored flower that turns into a creepy skull when it dies, and Australia's beautiful Flying Duck Orchid.
via My Modern Met