Nguyen Thi Thu is one of the few remaining artists practicing and constantly enhancing the traditional Vietnamese art of sculpting realistic-looking flowers out of papaya fruits.
Thu became enamored with carving various flowers from papaya fruits at the age of 15, when, like many other parents during the 1980s, her family registered her for an exclusive class on the art of sculpting the tropical fruit. She was fascinated by the traditional art form, but then she had to move to Russia for 15 years, where, because she was too busy working and had no access to green papayas, she couldn't practice her favorite art form. She tried it with all sorts of other fruits and vegetables, including watermelons, but nothing was quite like the papaya she knew. When she went back to Hanoi in 2009, she immediately got back into papaya sculpting, and she has been practicing the craft ever since.
Photo: Vietnamnet
According to Ms. Thu, in order to become beautiful flowers, papaya fruits must meet the following criteria: have smooth dark green skin, elongated shape, and be firm to the hand. Before sculpting, she cuts the papaya in half, and soaks it in cold water for 1 hour to remove the sap. She then uses simple tools such as a knife to split the petals, scissors to cut and shape the petals, and chopsticks to bend the petals. Finally, she uses a food coloring brush on the flowers to really make them look like the real thing.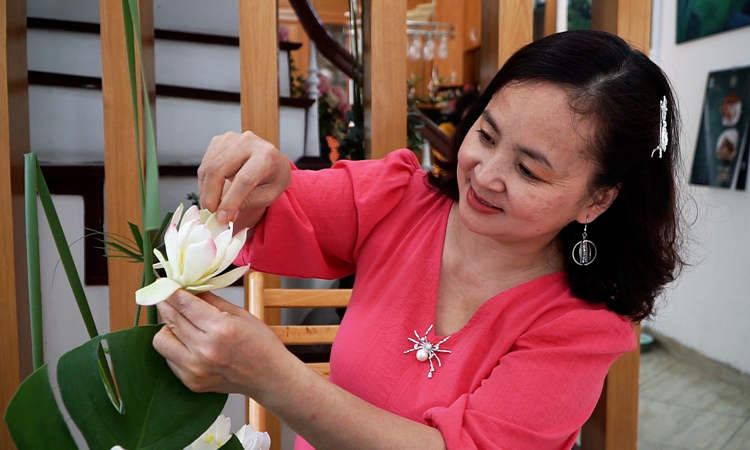 Photo: VNExpress
Over the years, Nguyen Thi Thu has taught herself to carve various types of flowers, from primrose and lotus, to water lily and peony, but her favorite by far is also one of the most complicated, the chrysanthemum. Creating a single flower takes between 45 minutes and over an hour, depending on the complexity of the design.
Photo: Vietnamnet
"I often fall asleep thinking of how to sculpt a certain flower, and then I get out of bed to practice,"  Ms. Thu said. "I passionately sculpt papaya flowers until 3-4 in the morning. There are over 3,000 kinds of chrysanthemums in the world, so even if I dedicate my entire life to carving each one, I probably won't be able to. "
Photo: Vietnamnet
Apart from showcasing her art form during various public events and creating delicate papaya flowers as a commission, Nguyen Thi Thu also holds classes in Hanoi, as a way of preserving the traditional art form.
Thu recommends that the flowers be refrigerated to prolong their fresh look, and when on display, they should be kept out of direct sunlight. The Vietnamese artist has also been experimenting with various preservatives to extend the life of her exotic artworks.