They say age is just a number, and watching 98-year-old V Nanammal effortlessly execute a wide range of difficult yoga poses that practitioners decades her junior still struggle with, I'm inclined to believe that they're absolutely right. Recognized as the oldest yoga instructor in India, and the second oldest in the world, Nanammal has inspired a whole generation of Indian youths to take the ancient art.
V Nanammal started doing yoga when she was 8, picking up the basics from her father, who was a martial artist. She then continued learning the secrets of the practice under the guidance of her grandfather, in her home town of Coimbatore, India's Tamid Nadu state. After getting married, Nanammal continued learning yoga from her father-in-law, and soon started teaching others. The elderly yoga instructor says that she never stopped practicing yoga for the last nine decades of her life, and credits it for her good health and incredible flexibility. She claims to have never been to the hospital or even taken any kind of medicine. "I never stopped practicing yoga at any point in my life. That's the secret of my health," she says.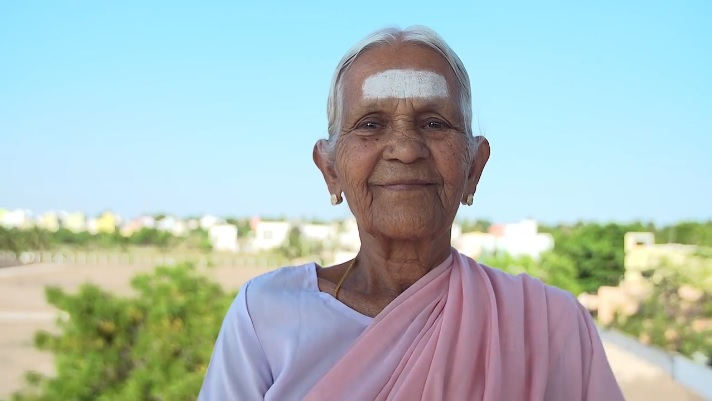 Most 98-year-olds are thankful to still be able to move around without the help of canes or crutches, but V Nanammal is fit enough to execute yoga asanas that practitioners in their prime cannot, including the "peacock", "raised lotus", "bridge" and headstand. Even the difficult "halasana" poses no difficulties for the very flexible instructor. Every day, she holds classes for at least 100 students at her house in Coimbatore, and preaches about the benefits of practicing the art paired with a healthy diet.
"I aspire to achieve her fitness," one of her students told the Deccan Herald. "She can do things we still struggle to do even after several years," another added.
"My mother can do all the difficult asanas, including the painful "peacock" asana where the body is held in a horizontal position by the strength of the arms alone," said Nanammal's son, V Balakrishnan. who is also a yoga instructor.
"I wear only our tradition sari. Still I can do more than 50 asanas," Nanammal said. "I do yoga before I go to bed and I do yoga with my students when I get up in the morning. As far as my body is concerned, it keeps me flexible. I will stiffen up terribly if I didn't do it."
Nanammal's students come form all walks of life and range from children as young as six, to women in their 60s and 70s, but they're all in awe of her fitness and dedication. They've taken to calling themselves "paethees" (granddaughters in Tamil), in honor of their teacher, who treats them like her children.
V Nanammal has won multiple gold medals and trophies in yoga competitions in India, and word of her amazing flexibility at an advanced age reached yoga federations around the world, many of which extended her invitations to come demonstrate her skills to their students. "She had rejected offers from several yoga federations across the world as she does not know English," Nanammal's son said.
The nonagenarian claims that around 600 students that learned yoga from her have become yoga instructors themselves, promoting the benefits of the practice all around the world. She continues to teach herself, and is focused on raising awareness among women, mainly girl students, about the health benefits yoga techniques.
Nanammal, is the second oldest yoga instructor in the world, behind Tao Porchon-Lynch, who at 98 is only a few months older. Both women are an inspiration.