A family of four from Scotland is offering a £50,000 ($64,000) to a professional nanny willing to work in a haunted house and put up with supernatural occurrences that have so far driven away five other nannies in the last year alone. This may be just a clever hoax, but even so, it's a very entertaining story.
According to the ad posted on a popular childcare job site, the "friendly family of four with 2 children ages 5 and 7 living in a small village in the Scottish Borders" have been having trouble finding a stable nanny to look after their young ones. They apparently live in a "lovely, spacious, historic property" that offers "spectacular views" of the surrounding countryside, but that hasn't been enough to keep previous nannies working there long-term. That might have something to do with the place being haunted, the person who posted the ad says.
Photo: Reddit (not the actual house in this article)
"We have lived in our home for nearly 10 years. We were told it was 'haunted' when we bought it, but kept our minds open and decided to buy the house regardless," the ad reads. "5 nannies have left the role in the last year, each citing supernatural incidents as the reason, including strange noises, broken glass and furniture moving. This has obviously been a period of great upheaval for our children. We haven't personally experienced any supernatural happenings, as they have been reported only while we've been out of the house, but we're happy to pay above the asking rate, and feel it's important to be as up-front as possible to find the right person."
If you're actually considering applying for the position after reading the above paragraph, you should know that the family is offering a salary of £50,000 gross per annum and 28 days holiday, plus bank holidays. You will also have your own comfortable room with en-suite bathroom and private kitchen. It sounds pretty good, I guess, except for the whole supernatural part.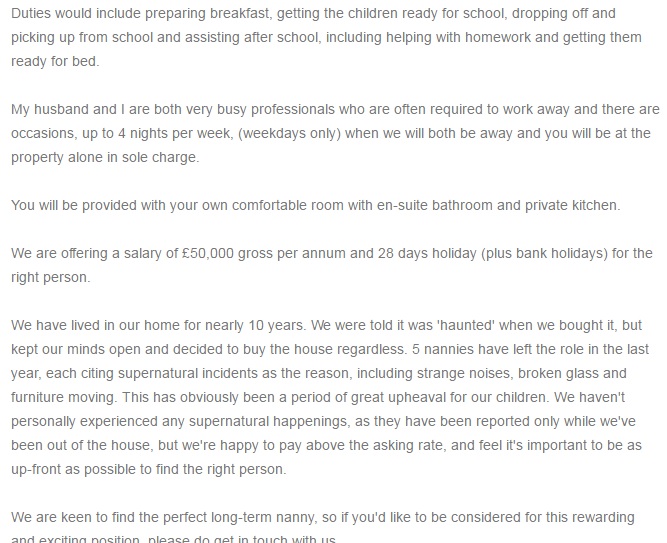 Photo: childcare.co.uk
To make matters worse, both parents are very busy professionals who often have to work away from home, so, as a nanny, you will have to spend a lot of time in the house, with just the kids. That's when the creepy things happen, remember?
"My husband and I are both very busy professionals who are often required to work away and there are occasions, up to 4 nights per week, (weekdays only) when we will both be away and you will be at the property alone in sole charge," the ad states.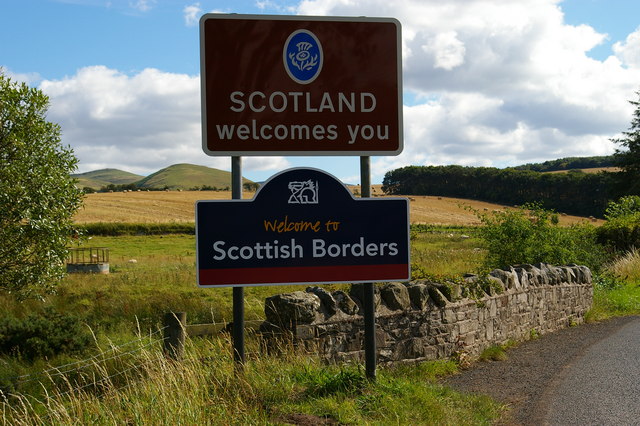 Photo: Eddie Robertson
Luckily, it ends on a positive note: "We are keen to find the perfect long-term nanny, so if you'd like to be considered for this rewarding and exciting position, please do get in touch with us."
Yeeeah, "rewarding" and "exciting" are not exactly the adjectives I'd use to describe this job opportunity.