On Valentine's Day, a young Ukrainian couple made international news headlines after chaining their hands together for three months, as a last ditch effort to save their relationship. They lasted the three months, but split up as soon as the chain came off.
In February, Alexander Kudlay, a 33-year-old car salesman, and 29-year-old beautician Viktoria Pustovitova shocked the world when they filmed themselves getting chained together with an actual chain. The chain was welded shut under the supervision of a representative of the country's national register of records, who also added a seal to the chain to make sure they don't cheat. The plan was to go three months with their hands chained together, which meant sharing bathroom breaks and showers, not to mention planning their day so that both could get stuff done. Few thought they could last three months, but they proved everyone wrong. Well, sort of…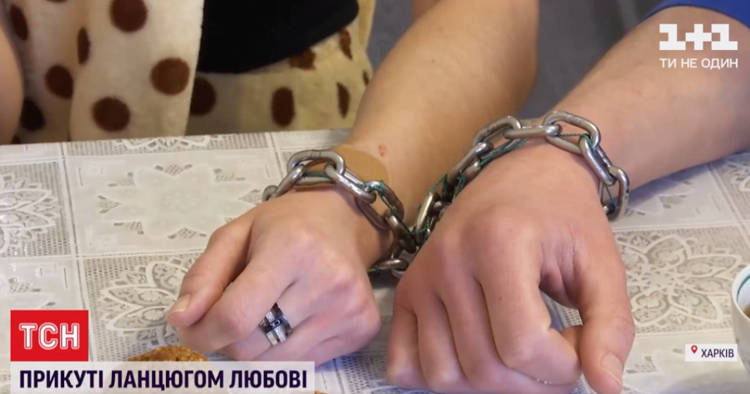 Although lasting 123 days with their hands chained together is impressive and probably worthy of the record books, the lack of privacy ultimately took a toll on the couple and they announced their break-up as soon as the chain came off their wrist. Apparently, instead of saving their relationship, the constant proximity to each other ultimately killed it.
"We have different views on many issues. On one hand, it does not bother us and we don't suppress each other," Alexander told Reuters. "But on the other hand, we are not like-minded people, we are not on the same wavelength, we are totally different."
"We stayed together all day," Pustovitova added. "I did not receive any attention from Alexander because we were constantly together. He did not tell me, 'I miss you'".
On June 17, the young couple once again traveled to Kiev, from their home city of Kharkov, to finally have the metallic bond that kept them together for the last 123 days removed. There were reporters present on the scene, the representative of the country's national register of records once again did the honors, this time cutting the chain with pliers, but the ending wasn't as happy and romantic as everyone hoped.
After accomplishing a feat that is reportedly unprecedented in Ukraine, the young couple now hope to capitalize on their fame by selling the metal chain in an auction, with proceeds going to charity.
So if you and your partner are going through tough times and are trying to save your relationship from falling apart, maybe don't chain yourself together for months. It doesn't seem to have the desired results…