Phung Thi Hung, chair of Hanoi-based Cat Tuong Technology and Import/Export Company, recently shocked people in her home country after consuming a bottle of what she called a very effective plant-based herbicide, to prove that it was safe for humans.
The unusual demonstration took place on April 21, during a workshop on controlling pests and protecting plants with biological methods in green agriculture. Phung Thi Hung was presenting her company's latest products, a line of herbal herbicides that are very effective in preventing the growth of weeds while being completely safe for humans. To prove her claims, the female entrepreneur took a bottle of red fluid, which she said was one of her new herbicides, and gulped it down in front of the audience. She was joined in her demonstration by Dr Nguyen Dang Nghia, director of the Southern Research Center for Soil, Fertilizer and Environment, who also drank a whole bottle of the stuff. They are both reportedly still breathing.
Photo: Vietnam Breaking News
According to Vietnam Breaking News, Phung, who spent a period of her life working in the military, told the audience that she suffered from a serious illness when she was 39 years old and was rejected by hospitals, but eventually cured herself with herbal remedies. She became passionate about plants after that, and spent the next 13 years developing the revolutionary herbicides.
During the workshop presentation, Phung Thi Hung unveiled a variety of herbal products meant to help farmers clean their fields of weeds without harming cultures. Asked about the mechanism of the products, she said that one inhibits the germination of glass seeds, thus preventing the plant from developing, while others stick to the grass leaves and prevent photosynthesis, causing the plant to die.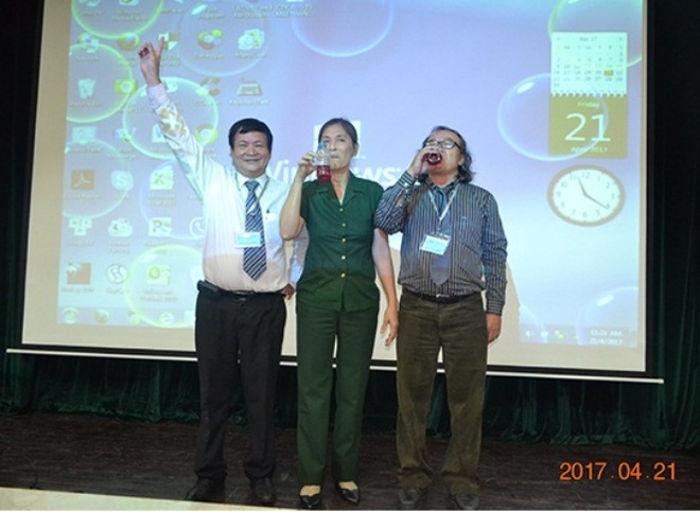 Photo: Soha.vn
Regarding the taste of the herbicide, Phung said that one of them has a mint flavor, and another tastes like a milk tea. They are both primarily plant-based, with their ingredients processed through micro-biotechnology.
A senior official of Vietnam's Ministry of Agriculture and Rural Development (MARD), who attended the unusual workshop, told members of the press that Phung Thi Hung's claims are extremely hard to believe.
Photo: Soha.vn
"No country in the world can make products with such characteristics as those presented here. If Hung can make such products, she will be a superhero," the official said.
The director of a company specializing in making microbial preparations also said that while some products are drinkable, that doesn't mean they will have the boasted weed-killing effects on agricultural fields.
Photo: Cat Tuong