Polygamy, the practice of taking several wives, is legal in Indonesia, but it usually implies marrying one woman at a time. However, one impatient polygamist decided to beat the system by marrying two ladies at the same time and even sent out bizarre wedding invitations where he can be seen posing with both his brides-to-be.
The unique wedding invitation has been doing the rounds on Indonesian social media for the past week, with the vast majority of users condemning the event for being degrading to the two women. Interestingly, even polygamists are against it, as most of them believe that a Muslim man must learn to live with one woman before taking second wives. Some made fun about how the wedding night would play out, while a few just thought it was just a prank. It isn't.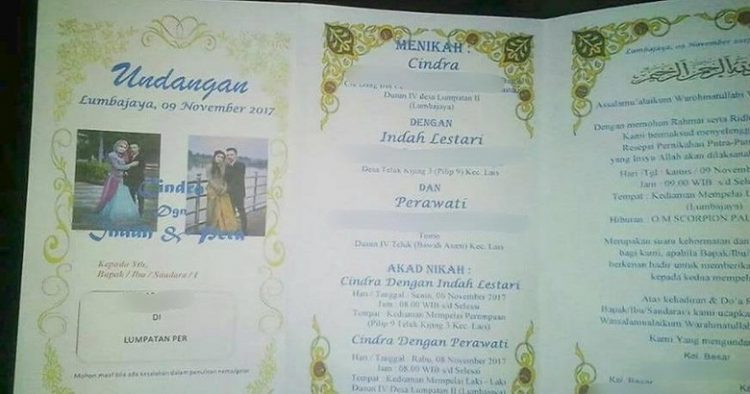 Photo: Facebook
Indonesian news website Detik recently confirmed that the wedding invitation is very real, after talking to the head of Teluk Kijing Village, in South Sumatra, where the event is scheduled to take place. The man, known only as Panser, said that he prepared the marriage certificates himself, and that the groom, Cindra, will marry each of his two brides separately, on November 5th and 8th, and then host one big wedding celebration on the 9th.
Panser added that Cindra and one of his brides-to-be, Indah, are from the same village, while the other one was from a neighboring community. The groom has apparently spoken two both women and their families about the unusual wedding, and they were all fine with the arrangement.
Photo: Facebook
Interestingly, the village chief claims that this is not the first time that a man from his village marries two women within a few days of each other, and organizes a joint wedding reception.
"In this village, there have been three times when a man was married to two women and held a reception together," Praseng told Detik. "The reason is that they love each other and it has been agreed upon from the beginning, before the wedding."
This is the second time this month that polygamy makes the news in Indonesia. At the beginning of October, AyoPoligami, a smartphone app for polygamists also got a lot of attention.